Hockey Saskatchewan MEMO: Call for Provincial Female Junior Team Applications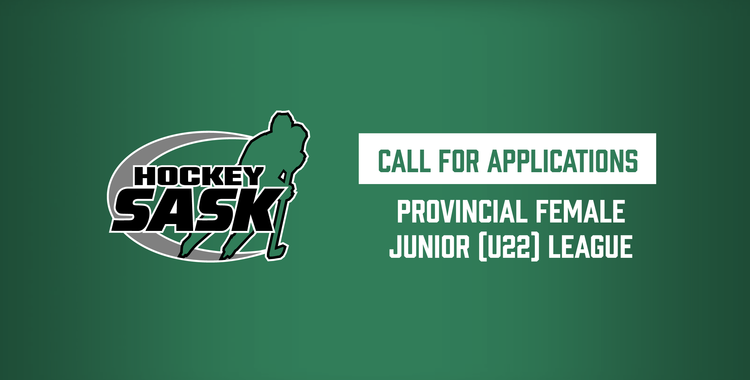 Jan
13
By Hockey Saskatchewan
 REGINA, Sask. – A memorandum has been issued regarding a call for membership applications for the Provincial Female Junior League.
---
To:         Hockey Saskatchewan Membership
From:    Kelly McClintock
Re:        Provincial Female Junior (U22) League
The Hockey Saskatchewan Board of Directors have approved the formation of a Provincial Female Junior (Under-22) League for the 2023-24 season.
This Memo is a call for applications from communities who wish to become a member of the League for the fall of 2023.
The League will fall under the Administration of the current Sask Female U18 AAA Hockey League whose volunteers will administer both leagues.
Hockey Saskatchewan will maintain the final approval of member teams within the League.
Applications for the inaugural season will be accepted until February 15th, 2023, at 5:00 p.m. and can be submitted online to info@hockeysask.ca.
Applications must address, at a minimum, the following items:
Must have a letter of support and working agreement with the local Minor Hockey Association.
Must provide a description of the organization (Team Executive), financial status and home arena of the applicant.
Must list the city or town in which the club of the application is to be located.
Must provide a detailed player recruitment plan for an active roster of twenty-five (25) players and provide details of a player base within the area/region to ensure the long-term viability of the franchise.
Must provide a qualified coaching plan including the inclusion of Female coaches.
Must provide a detailed marketing/sponsorship plan.
Application Process:
January 13, 2023 – Hockey Saskatchewan calls to the Membership, accepting applications with a deadline of February 15, 2023.
February 16 - March 1, 2023 – Hockey Saskatchewan AAA/AA Committee reviews the applications and makes recommendations to the Board of Directors.
March 1 - March 15, 2023 – Hockey Saskatchewan Board of Directors review the Committee's recommendations and approve inaugural franchises.
March 16 - April 1, 2023 – Membership is advised of the decision of the Board of Directors.
If you have any questions, please contact me directly.
Thank you.
Kelly McClintock

General Manager

Hockey Saskatchewan
Back to all News