Hockey Saskatchewan Unveils 2022-25 Strategic Plan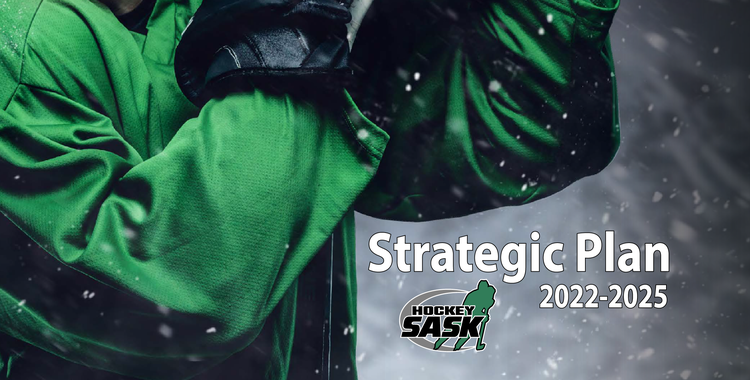 Nov
09
By Hockey Saskatchewan
REGINA, Sask. – Hockey Saskatchewan's Strategic Plan for 2022-25 is in motion and our mission is ... To Lead, Develop, and Promote Positive Hockey Experiences For All.
The Strategic Planning Task Team for Hockey Saskatchewan launched a comprehensive process to focus on a review and assessment of the current Strategic Plan that was created in 2018.
Between January and June of 2022, the Task Team engaged a consultant to focus on governance, innovation, and awareness based on input from the Board, Staff, and most importantly the membership.
The Task Team undertook several strategic planning exercises to develop the current environment, considering internal and external factors as well as exercises to calibrate the strategic direction of Hockey Saskatchewan. Stakeholder Engagement was also undertaken with a variety of constituents through an online survey.
The following core themes emerged as a result of the strategic planning:
A diverse and inclusive experience is important and valued at every level of Hockey Saskatchewan to grow the game;
Let the game of hockey be the focus, not the organization of hockey;
A welcoming, safe & fun environment is paramount in all areas of our game;
Ensure the "Hockey Saskatchewan Brand" is recognized and realized throughout the province, throughout the rink, and throughout the game;
Importance of education and training of all participants for continuous improvement;
Value must be placed on safety, respect, and trust in all aspects of hockey; and
Remove the barriers that are preventing hockey from being fun for more players and participants across Saskatchewan.
The Hockey Saskatchewan Strategic Plan is a high-level framework that provides a roadmap for moving forward and growing our game. The Board of Directors will lean heavily on the refreshed Strategic Plan to guide their efforts and ensure priorities are aligned with staff & membership in the best interest of the association.
Strategic Objectives – Our Focus and Improvement Path
1.            Grow the Game
Hockey Saskatchewan will ensure that we "grow the game" by removing barriers to participation and ensuring that hockey is a life-long positive experience for all through an emphasis on our values: Fun; Safety; Community; Inclusivity; Respect; and Passion.
2.            Organizational Development
Hockey Saskatchewan will strive to building a high-performance organization that supports our players, people and partners through excellent governance, training, innovative use of technology and proven communication strategies.
3.            Community and Social Impact
Hockey Saskatchewan is committed to being a leader in the area of community and social impact through best practice policy development, innovative approaches to our values and a commitment at every level to our mission to lead, develop and promote positive hockey experiences for all.
4.            Program Consistency
Hockey Saskatchewan strives to deliver measurable and consistent programs for all players from Grassroots to High Performance across the Province.
5.            Event and Team Success
Hockey Saskatchewan will seek out opportunities to deliver world-class performances in the Province of Saskatchewan and by Saskatchewan hockey players. We will grow these initiatives by encouraging promotion, leadership and development of positive hockey experiences with our partners.
6.            Continued Financial Stability
Hockey Saskatchewan will ensure excellent financial stability through new and mutually beneficial partnerships, leveraging stakeholder relationships and creating opportunities for diversified funding for the organization and those we serve.
With these six objectives identified, Hockey Saskatchewan is eager to work with Members to seek out best practices for accomplishing our mission. All Hockey Saskatchewan members are encouraged and welcome to reach out to Board members to share any feedback they may have about the Strategic Plan.
To view the Strategic Plan Roadmap, click HERE.
**In the near future, each Minor Hockey Association will receive two (2) posters that contain a QR Code that can be scanned to view the Roadmap and how this Strategic Plan will unfold over the upcoming seasons.**
The Hockey Saskatchewan Board of Directors has a number of tools that are included as well as resources for this planning Roadmap.
Resources:
Hockey Saskatchewan E.D.I. Assessment
Environmental Scan Results
Planning Document from Fall of 2021
Additional best practice research on the importance of E.D.I. in Hockey
The Hockey Canada Strategic Planning Document that was utilized for alignment purposes
Shaping Character for Life… More Than a Game.
---
About HOCKEY SASKATCHEWAN
Hockey Saskatchewan was established in 1912 and is the governing body for organized hockey in the Province of Saskatchewan. With a mission to Lead, Develop and Promote Positive Hockey Experiences, Hockey Saskatchewan encourages competition at all levels – from recreational to high performance. Hockey Saskatchewan has grown through the years and is Saskatchewan's largest sports organization with over 43,000 members comprised of players, coaches, and officials. For more information, please visit www.hockeysask.ca or follow us on Facebook, Twitter, and Instagram.
Back to all News