Hockey Saskatchewan MEMO: Board of Directors Call for Applications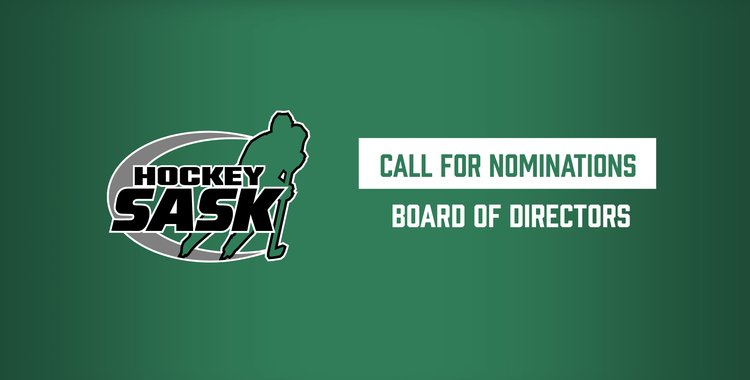 Mar
24
By Hockey Saskatchewan
 REGINA, Sask. – A memorandum has been issued regarding a call for applications for Hockey Saskatchewan Board of Directors.
---
To:        Members of Hockey Saskatchewan
From:   Al Hubbs – Hockey Saskatchewan Nominating Committee, Chairperson
Re:       Board of Directors – Call for Nominations
A Nominating Committee for Hockey Saskatchewan has been created to carefully review applications for those wishing to be elected to the Hockey Saskatchewan Board of Directors. 

The Board of Hockey Saskatchewan is committed to effective governance of the organization; acting as stewards of the organization and considering the interests and influences of all Members and other stakeholders to ensure the mission is achieved.
Three new members shall be elected to the Hockey Saskatchewan Board of Directors for three-year terms at the AGM on June 20, 2023. The Nominating Committee is searching for qualified individuals interested in holding a position on the Board of Directors to submit nomination packages.
The ideal candidates will love hockey and have experience in either risk management, accounting, finance, legal, or have previous governance experience. If this sounds like you, and you thrive in an environment of guidance and policy development, we're looking for you.
Equity, diversity and inclusion along with the skills necessary to oversee the policy governance of the Association are critical to the ongoing success of Hockey Saskatchewan.
For more information please contact Al Hubbs, Chairperson of The Nominating Committee, or click here to be directed to the nomination package. 
Completed nomination packages must be received by the Nominating Committee Chair by April 20, 2023.
Al Hubbs

Nominating Committee Chair

Hockey Saskatchewan

306-695-7544
Back to all News