Coaching in Coachella: Jessica Campbell's Journey from Sask. to Pro Hockey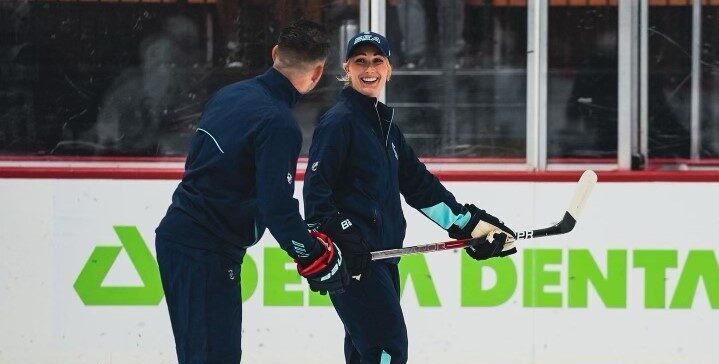 Sep
19
By Coaches Association of Saskatchewan
When Jessica Campbell walked into the Kraken Community Iceplex — the practice facility for the NHL's Seattle Kraken and the team's home base for their summer development camp — there was already a dressing room for female coaches waiting for her.
Having grown up playing in small town rinks across Saskatchewan, that's not something Campbell was accustomed to, who recalled memories of getting dressed in janitor's closets or merely any space she could find.
"That was an absolutely unbelievable feeling," said Campbell, who served as a member of the Kraken's coaching staff for the team's development camp this summer. "To know that's the direction the game is going — forward thinking and understanding we too do have something valuable and different to bring to the table as people and we're deserving of the same opportunity."
"The way the Kraken organization is — it's just a perfect fit."
Campbell was recently hired by the Coachella Valley Firebirds, the American Hockey League (AHL) affiliate of the Kraken and is set to be the first-ever woman coach to be behind the bench for an AHL game.
It's a long way from Rocanville and Melville, where Campbell began her journey playing minor hockey — emerging as one of Saskatchewan's top young female players.
She starred for Team Canada twice at the U18 level, eventually leading her to Cornell University in Ithaca, N.Y. where she would embark on a four-year career with the Big Red and serve as the team captain in her final season. She went on to play three seasons with the Calgary Inferno of the Canadian Women's Hockey League, while she trained for Canada's national team.
As her playing days were winding down, she began running skating camps back at home in Saskatchewan and developed her niche. She became an assistant coach with the Pursuit of Excellence Hockey Academy in Kelowna, B.C. — which is where she fell in love with coaching.
That was 2017. This is 2022, which, for Campbell, has been as hectic of a year as they come.
She was named the president of Chicago Young Americans girls' hockey. She spent time with Nurnberg Ice Tigers of the Deutsche Eishockey Liga — Germany's top league. That stint propelled her to a role with the men's German National Team at the World Championships, where she coached the likes of Tim Stutzle and 2021-22 NHL Rookie of the Year Moritz Seider.
The year of Campbell continued soon after Worlds as she was announced as a guest coach for the New York Rangers development camp. Then the Kraken came calling. Stanley Cup winning coach and now head of the Firebirds Dan Bylsma heard of Campbell and gave her a call regarding his team's opening for assistant coach.
That opening was soon closed as Campbell got the job, wrapping up what has been a whirlwind of a year.
"I'm kind of in that moment now processing it all," said Campbell. "In the last six months, everything has kind of transpired and it's come together quicker than I ever imagined. I'm just a big believer in when the time comes, the opportunities will present themselves — do the work and the work will speak for itself."
Her position with the Firebirds will involve a role in the special teams unit, as well as supporting on the skill development side as a skills and skating coach.
"What I'm probably most excited about in my position is being able to work with the same group of prospects and players that have that support and a coach that can get on the ice with them early and stay on after practice," said Campbell.
Getting to this point and earning these opportunities in her career has taken a lot of hard work, but Campbell says she hasn't had to do it alone.
"I'm obviously really excited about the people that have been advocating for me and opening doors to put me in this position," said Campbell, who mentioned NHL'ers like Brent Seabrook, Luke Schenn, Tyson Jost and Damon Severson as "the biggest reasons"' she is where she is today.
While Severson — a defenceman with the New Jersey Devils — is one of the many pros who would train with Campbell in the summer in Kelowna, the pair go way back to their roots on the Prairies.
Severson is only a couple years younger than Campbell and the two went to high school together in Melville. Severson witnessed her skill as a player during their time growing up and now benefits from the expertise she brings to the ice as a coach.
"She's very detail oriented. She listens very well to the players and what we want to do. It's not always just about going out with her and putting drills on the ice and we just do them. She wants to hear the players' feedback and what we want to work on throughout the summer," said Severson. "She just wants to get herself better. Her understanding of the game was already at such a high level, but now that she's able to work with such high, high-end players that it's going to be even better."
It just so happened that the pair of Melville Comprehensive School graduates were both at the 2022 IIHF World Hockey Championship earlier this year. Severson was manning Team Canada's blue line, while Campbell was on the bench as an assistant coach for Germany. Their respective teams met in a preliminary round game that Canada won 5-3.
"I felt bad for her cause she was running the penalty kill and we scored a couple on the power play, so I said sorry for the tough start. But we were chatting about people we grew up with, school, hockey stuff and just friends and family," said Severson. "It was really weird to look back — two people from small town Saskatchewan meeting in a hotel hallway in Finland."
That Saskatchewan connection is one that Campbell also treasures, attributing the successes and triumphs along her journey —both as a player and coach — to her Prairie roots.
"Saskatchewan is where it all began," said Campbell. "Saskatchewan is just a special place. I think everyone that's ever been through the Prairies — it's about the people, the small towns and the communities. There's so many that have supported me as a player and as a coach now that have been cheering me on from afar."
From Saskatchewan to Coachella, there are only a few females in hockey history who have struck a similar journey to Campbell. And she's not done yet, viewing her position in the AHL as a place to learn and develop as she pursues her ultimate goal of coaching in the NHL.
In doing so, she looks forward to providing girls in or entering hockey with another thing —aside from a dressing room— that she didn't have growing up and playing hockey.
"When I was playing, there wasn't the visibility of female coaches at the pro level, so I never saw that for me," she said. "I'm grateful to carry that torch and hope that if I succeed along the way, hopefully, the door is going to be held open for others behind me to do the same."
---
It's time to say "Thanks Coach" in Saskatchewan during National Coaches Week Sept. 17-25. Today more than 19,000 trained coaches work with registered participants in Saskatchewan on different local teams, clubs and leagues. Across Canada, more than 1.8 million Canadians have received coach training and one in seven Canadians will coach at some point in their lives. Support the movement by using the hashtags #ThanksCoach or #CoachesWeek on social media.
Back to all News