Zones 5-8: Hockey Saskatchewan's Most Promising Official Awards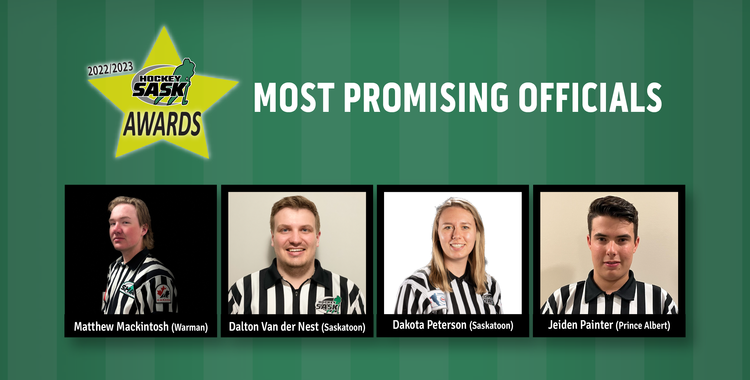 May
25
By Hockey Saskatchewan
REGINA, Sask. – The Hockey Saskatchewan Officiating Development Program annually recognizes four officials with zone awards for the Most Promising Official, which are selected by task team members at the end of each season. Winners are selected from the north one season and the south the following year. This 2022-23 season, the award winners were selected from zones 5, 6, 7 and 8.
Officials considered for the Most Promising Official Award are recognized as being someone identified as having the potential to advance to higher levels of hockey. Past winners include WHL officials Ty Skene, Adam Forbes, Levi Schutz and Adam Bloski among many others.
---
(Zone 5) Matthew Mackintosh – Warman
Matthew has been a certified official for just four seasons, shows a lot of potential and is comfortable as well as confident on the ice. Maybe it's genetic, following in brother Rylee's and father Keith's footsteps. Keith was also an official award winner who received the 1989-90 Zone 8 Most Improved Official Award and the 1997-98 Zone 6 Most Deserving Official Award. Matthew has shown a positive attitude and willingness to be coached to continue in his development. Matthew is 18 years old and no longer plays hockey but can expect new opportunities in new leagues at the start of next season based on his performance including a strong showing at the U15 North Regional Camp and U15 Top 80 Tournament. He appears comfortable both reffing and on the lines but has shown good judgement and feel for the game along with strong communication skills. In a statement after learning he won the award, Matthew said, "I am very humbled to be recognized for this award. I am looking forward to next year."
(Zone 6) Dalton Van der Nest – Saskatoon
Dalton, now 26, just started officiating at 25 years old after wrapping up his U18 AAA career in Alberta in 2013-14. In his second season wearing the stripes, Dalton has become a go-to option in Saskatoon working minor hockey at all levels including U15 and U18 AA. Strong skater, a good communicator and has a passion for the game best describes some of the characteristics of Dalton as an official. That led him to be selected as the Quinn Stevenson Memorial SMHA Referee of the Year Award Winner. In his first season attending Sask First camp, he earned a spot in the U18 Sask First tournament in April and was selected to referee the 'A' final game at the tournament. "I truly believe that my quick development here in my two years with Hockey Sask is a testament to the coaches, mentors, and opportunities the Officiating Development Program has provided," said Dalton. "I look forward to continuing this growth and momentum next season," he added.
(Zone 7) Dakota Peterson – Saskatoon
Despite attending university in Saskatoon, Dakota worked the majority of her games in the Battlefords and area. While going home on the weekends to help out, she worked Senior, U18 AA and U15 AA and SFU18AAAHL games, which she is an alumnus of, finishing her minor hockey career in 2016-17 with the Battlefords Sharks. Dakota has a can't-miss presence on the ice, skates well, works hard and always seems to get the best out of her partners on the ice as well which has led to opportunities with Hockey Canada and most recently the 2023 Esso Cup in Prince Alberta where she was selected to lines the gold medal game, which was broadcasted on TSN. Dakota has been officiating for 10 years and will likely be based out of Saskatoon next season with job commitments. She is certainly someone that will have opportunities to continue within the province and on the national scale. After learning she was selected as the winner of the award she said, "Thank you so much for even considering me for the award," she continued. "I really owe it to the female mentors within Hockey Saskatchewan."
(Zone 8) Jeiden Painter – Prince Albert
Jeiden was just 17 this season and attended his second Sask First Regional Camp and Tournament. At 16, he was selected to lines the 'A' final game at the tournament, and a year later he was back in the 'A' final game this time as a referee. His confidence and coachability from one year to the next has been great to see and he shows he has the tools needed to go far in the officiating world. Jeiden worked minor hockey including working on the lines in U18 AAA male hockey, reffing U18 AAA female hockey and working some PJHL and Senior hockey often as the youngest person on the ice in those leagues."It is felt by many that he will do well when given the chance to ref at the higher levels in the years to come," said Prince Albert Referee-in-Chief Barry Schrader of Jeiden.
---
Congratulations to the four officials selected as Hockey Saskatchewan's 2022-23 Most Promising Officials and we all are excited to see where this exceptional group of promising officials ends up in their careers.
Along with being selected as the zone award winner for Most Promising Official, the four winners are also nominated for the Hockey Canada Officiating Development Program, which will be announced in August.
The provincial winners for the Most Deserving Official awards will be announced on Friday.
Back to all News