Zones 5-8: Hockey Saskatchewan's Most Improved Official Awards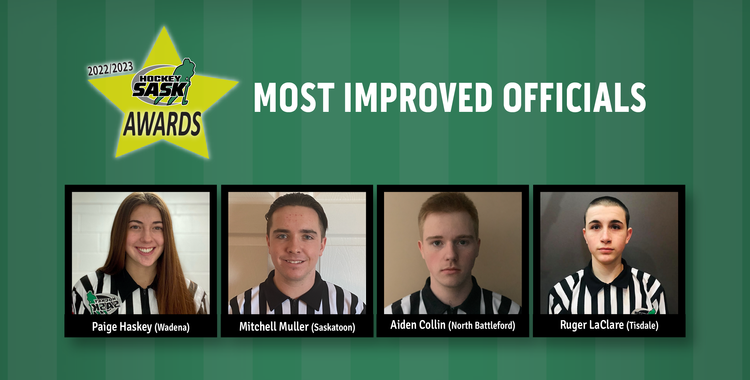 May
24
By Hockey Saskatchewan
REGINA, Sask. – The Hockey Saskatchewan Officiating Development Program annually recognizes 12 officials with awards in three categories; Most Improved, Most Deserving and Most Promising, which are selected by the task teams at the end of each season. Winners are selected from the north one season and the south the following year. This 2022-23 season, the award winners were selected from zones 5, 6, 7 and 8.
The criterion for the Most Improved Official Award is that the official has shown the most improvement within their officiating calibre through their development in clinics, camps and on-ice efforts.
---
(Zone 5) Paige Haskey – Wadena
Paige started officiating at the age of 12 in her hometown. Over the past four seasons, she has been mentored by numerous officials and has proven to be able to work hockey games from the U9 level up to U18. Her development advanced after attending the Sask First Female Regional Camps and being selected to work at high-performance program tournaments over the years. Being the oldest official in her community at 18, she invested a lot of time coaching younger officials in surrounding areas and recently elevated her range, working up to Male U18 AA and Female U18 AAA this season. Next year, Haskey plans to move to attend university and continue to advance her abilities as well as pursue new opportunities as an official. Paige has a love for the game, not only as an official but as a player as well, as she was a member of the Female U18 A provincial champion East Central Fillies. She continues to gain more confidence with the experience and support she receives in new opportunities.
(Zone 6) Mitchell Muller – Saskatoon
Mitchell is originally from Shellbrook and moved to Saskatoon after graduating high school and there he has continued to progress as an official. Since moving to Saskatoon, he has been regular on the schedule working the lines in the SMAAAHL and PJHL as well as reffing the U15 and U18 AA leagues. He attended Sask First camps in Aberdeen the previous two seasons and has seen his development, effort and attitude provide him with new opportunities as an official. While 20 years old now, Mitchell started officiating at 12, following in his father's footsteps. He also played minor hockey all the way up through to his last season in 2020-21 in Shellbrook. Mitchell capped off a successful season this year being assigned U18 AAA, Senior, and U15 AA playoff games as well as working U18 provincials.
(Zone 7) Aiden Collin – North Battleford
Aiden finished playing his last season of hockey in 2017-18 in the Battlefords on a U15 rec team and he started officiating two seasons prior to that. Aiden has proven to be a strong skater and a very coachable official as he attended Sask First this season for the first time and reached out to former officials who have been through the process in order to be prepared for the opportunity at the camp. It paid off, as he was selected to work the U15 Top 80 tournament and skated the 'A' final game at that tournament. He was very busy this season working minor hockey games, U15 AA, SFU18AAAHL and Senior games. With the success of his development, Collin will certainly have new opportunities in new leagues next season.
(Zone 8) Ruger LaClare – Tisdale
Ruger, at just 15 years old, already has six years of experience under his belt, which is something that came naturally in his household with an older sister and two younger siblings also officiating. This season was Ruger's first for being eligible to attend Sask First and he made the most of it learning a lot at the camp. From there, he was selected for the U15 Top 80 tournament. Still very much in the development stage of his career, Ruger works a lot of lower-level minor hockey but stepped up to the challenge through Sask First and was also given some opportunities to work AA hockey this season, all while still playing with the Tisdale U18 team. Ruger has worked on keeping the focus in each game he works and looks to continue his development as an official through a consistent effort and positive attitude on the ice.
---
Congratulations to the four officials selected as Hockey Saskatchewan's 2022-23 Most Improved Officials and good luck with all your future officiating endeavours.
Along with being selected as the zone award winner for Most Improved Official, the four winners are also nominated in the Hockey Canada Officiating Development Program, which will be announced in August.
The provincial winners for the Most Promising Official awards will be announced on Thursday.
Back to all News