Win-win for Lucky World Junior 50/50 Ticket Holders and Grassroots Hockey Development in Saskatchewan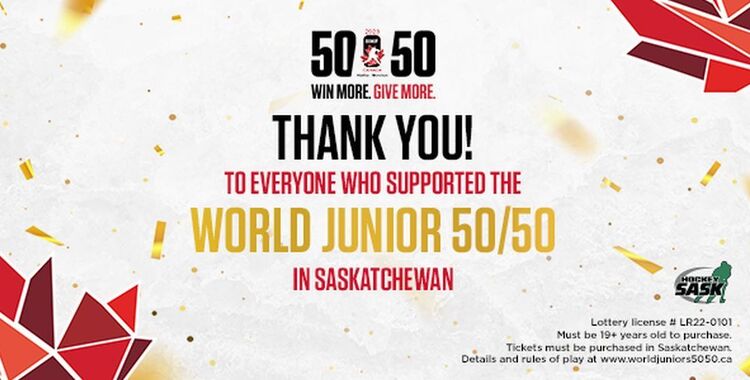 Jan
19
By Hockey Saskatchewan
REGINA, Sask. – Hockey Saskatchewan is pleased to announce the province's lucky 50/50 winners from draws taking place during the 2023 IIHF World Junior Championship.
All proceeds from the six draws were split, with half going to the local winners and the other half staying in Saskatchewan to fund initiatives that encourage more people to take up the sport and enhance their quality of life through hockey.
The winners of Hockey Saskatchewan's online World Junior 50/50 are:
Draw #1 (Dec. 26): Melanie Laine from Hanley won $9,205.
Draw #2 (Dec. 28): Chad Petracek from Pilot Butte won $4,980.
Draw #3 (Dec. 31): Shane Regier from Big River won $6,305.
Draw #4 (Jan. 2): Ryan Martin from Saskatoon won $10,195.
Draw #5 (Jan. 4): Sandra Umpherville from Marcelin won $16,970.
Draw #6 (Jan. 5): Shelley Olson from Saskatoon won $39,890.
Congratulations to all the winners and thank you to everyone who supported the 50/50 as Team Canada defended their gold medal in epic fashion at the World Junior Championship held in New Brunswick and Nova Scotia from Dec. 19, 2022, to Jan. 5, 2023.
The winning ticket numbers were posted HERE. Lottery licence #LR22-0101.
Funds raised will go towards supporting grassroots development initiatives in the province, which aligns with objectives outlined in Hockey Saskatchewan's 2022-25 Strategic Plan.
For more information about Hockey Saskatchewan's grassroots programming, please visit HERE.
Shaping Character for Life… More Than a Game.
---
About HOCKEY SASKATCHEWAN
Hockey Saskatchewan was established in 1912 and is the governing body for organized hockey in the Province of Saskatchewan. With a mission to Lead, Develop and Promote Positive Hockey Experiences, Hockey Saskatchewan encourages competition at all levels – from recreational to high performance. Hockey Saskatchewan has grown through the years and is Saskatchewan's largest sports organization with over 43,000 members comprised of players, coaches, and officials. For more information, please visit www.hockeysask.ca or follow us on Facebook, Twitter, and Instagram.
Back to all News