Saskatchewan Development Model Partnership Provides Pathways for Aspiring Hockey Players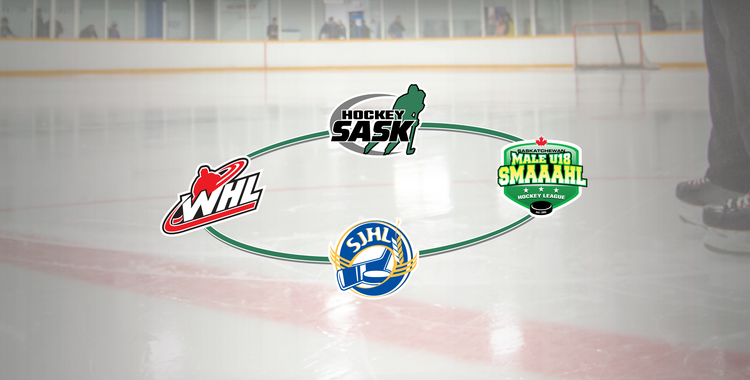 Mar
02
By Hockey Saskatchewan
REGINA, Sask. - Hockey Saskatchewan, in partnership with the Western Hockey League (WHL), Saskatchewan Junior Hockey League (SJHL), and Saskatchewan Male Under-18 AAA Hockey League (SMU18AAAHL), has unveiled the new Saskatchewan Development Model (SDM) to provide aspiring players with the knowledge of pathways available to them within Western Canada for their career to progress.
The comprehensive 46-page document was developed with the input of experts from all partner organizations. The model is designed to provide players with a clear understanding of what it takes to progress through the ranks of hockey, from grassroots levels to the professional leagues.
"We are excited to unveil the updated Saskatchewan Development Model, which will provide aspiring hockey players with the knowledge and tools they need to achieve their goals," said Kelly McClintock, General Manager of Hockey Saskatchewan. "Through this partnership with the WHL, SJHL, and SMU18AAAHL, we are able to offer a clear and comprehensive pathway for players to follow as they work towards their dreams."
"With all levels of hockey in Saskatchewan working together through the Saskatchewan Development Model, the focus is to continue acting in what is in the best interest of the player's development," commented WHL Commissioner Ron Robison. "It provides a clear roadmap for players who want to reach their full potential in the Canadian system." 
The model outlines the various levels of hockey in Canada, including Sask First high-performance programming, AAA, Junior, and U Sports.
"The SJHL is a proud partner of the SDM. Our players have the added benefit of having multiple options such as advancing to the WHL or pursuing educational opportunities beyond their Junior careers," said Kyle McIntyre, Commissioner of the SJHL.
"At the heart of the SMU18AAAHL's success in developing elite players lies the Saskatchewan Development Model, which outlines steps players can take for a smooth transition from minor hockey to major junior, junior, or college careers," said Lloyd Friesen, President of the SMU18AAAHL. "This league plays a significant role in the overall development of players who aspire to reach their full potential in the sport and life.
The Saskatchewan Development Model is available for download on the Hockey Saskatchewan website HERE.
---
About HOCKEY SASKATCHEWAN
Hockey Saskatchewan was established in 1912 and is the governing body for organized hockey in the Province of Saskatchewan. With a mission to Lead, Develop and Promote Positive Hockey Experiences, Hockey Saskatchewan encourages competition at all levels – from recreational to high performance. Hockey Saskatchewan has grown through the years and is Saskatchewan's largest sports organization with over 43,000 members comprised of players, coaches, and officials. For more information, please visit www.hockeysask.ca or follow us on Facebook, Twitter, and Instagram.
Back to all News