Hockey Saskatchewan's MHA Matching Grant Program Returns to Boost Skater Development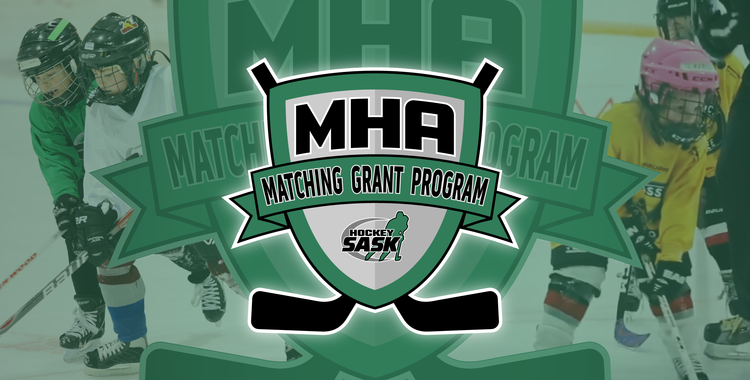 Jun
02
By Hockey Saskatchewan
REGINA, Sask. – Hockey Saskatchewan is proud to announce the return of the Minor Hockey Association (MHA) Matching Grant Program for the 2023-24 season in an effort to help mould the province's future skaters.
This opportunity for all 187 registered Member Associations supports the expense of hiring power skating instructors or having a local person trained to assist in the player development with a matching grant of up to $1,000.00.
The MHA Matching Grant Program is funded by the profits of 50/50 draws held over IIHF World Junior Championships which are raised with the goal of supporting grassroots hockey initiatives.
Power skating services must be targeted towards the Under-7 to Under-13 age groups within an MHA and must occur between September 2023 and December 2023.
"Skating isn't just the foundation of our game, it allows players to make strides to be better athletes as well as teammates. Hockey Saskatchewan wants to see every member on the ice have fun while playing the sport to the best of their potential to build confidence on and off the ice. As an organization, we felt the return of a second MHA Matching Grant Program was a way to help Member Associations recoup costs incurred by creating more power skating opportunities for coaches, officials, and players," said Kelly McClintock, General Manager of Hockey Saskatchewan.
Power skating instructors must possess the Hockey Saskatchewan-approved certification in order for an MHA to qualify for the grant program. Certification must be obtained by December 31, 2023.
All instructors are required to become Respect in Sport activity leaders as part of the grassroots power skating initiative, and take one of the five (5) routes below:

1) Certified Skills Coach (Level 3) - Delivered by Hockey Canada
Topics include skating, skills, defenceman, shooting & scoring.
Hockey Network app training.
Application process to attend.
Hosted bi-annually by Hockey Canada.
2) Hockey Saskatchewan Licensee
Recognized by Hockey Saskatchewan in these categories: power skating, skills, checking, developing defenceman, and goaltending.
Attend a Hockey Saskatchewan professional development training session.
3) CanPower Skate - Delivered by Skate Canada
Held in Saskatchewan with a September 2023 training date.
4) Hockey Saskatchewan Skills Coach (Level 2)
Hockey Canada courses in Skating 2, Skills 2, Shooting & Scoring 2, and Developing Defenseman 2.
Delivered by Hockey Saskatchewan & certified Hockey Canada skills coaches.
Targeted hosting date is June 16-17, 2023, in Saskatoon.
5) Hockey Saskatchewan Power Skating Coach (Level 1)
This one-day clinic is an entry-level course in power skating instruction.
Course material is from Hockey Canada; Skating 1a, Skating 1, and Skating 2.
Ice sessions to target edges, striding, and transitions.
Additional class sessions include the use of technology, skill progressions, and skill analysis.
Ten (10) lesson plans are being developed for attendees.
Clinic date is August 13, 2023, in Saskatoon.
More information HERE.
To be eligible, each MHA must submit receipts through an online application which will open between December 1, 2023, and February 28, 2024. The receipts must indicate a purchase made by the Member Association for the expense of hiring power skating instructors or having a local person trained to assist in player development. One application per MHA will be accepted and the Member Association must match the grant received.
This return of the MHA Matching Grant Program aligns with objectives outlined in Hockey Saskatchewan's 2022-25 Strategic Plan. To explore the plan's comprehensive Roadmap, please click HERE.
The inaugural grant program administered in the 2021-22 season saw $148,000 distributed to help MHAs recoup costs incurred with the provincial introduction of Cross-Ice and Half-Ice, along with other capital expenditures in the area of development.
For any inquiries regarding the program, kindly reach out to Hockey Saskatchewan General Manager Kelly McClintock at KellyM@HockeySask.ca.
Shaping Character for Life… More Than a Game.
---
About HOCKEY SASKATCHEWAN
Hockey Saskatchewan was established in 1912 and is the governing body for organized hockey in the Province of Saskatchewan. With a mission to Lead, Develop and Promote Positive Hockey Experiences, Hockey Saskatchewan encourages competition at all levels – from recreational to high performance. Hockey Saskatchewan has grown through the years and is Saskatchewan's largest sports organization with over 40,000 members comprised of players, coaches, and officials. For more information, please visit www.hockeysask.ca or follow us on Facebook, Twitter, and Instagram.
Back to all News