Hockey Saskatchewan Announces Rosters for Canada Winter Games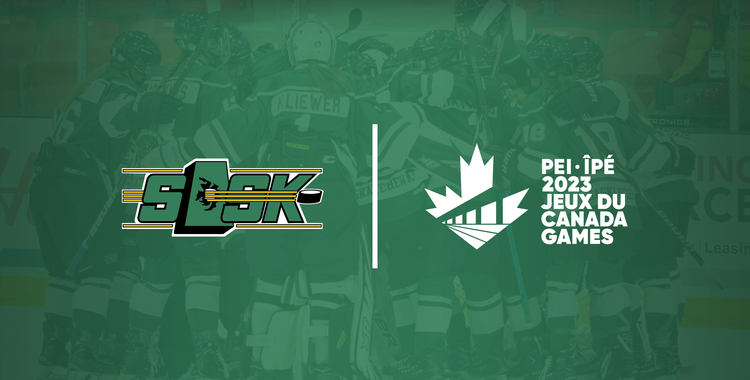 Dec
01
By Hockey Saskatchewan
REGINA, Sask. – Hockey Saskatchewan is excited to introduce the rosters for the Female Under-18 and Male Under-16 programs. Those chosen will represent Team Saskatchewan at the 2023 Canada Winter Games in Prince Edward Island.
---
Team Saskatchewan on the Women's side will include nine (9) returning players from the previous season. Those players include Kyra Anderson (Regina), Keyra Buziak (North Battleford), Julia Duke (Emerald Park), Janelle Evans (Bethune), Jocelyn Fiala (Clavet), Greta Henderson (White City), Megan Hirschfeld (Beaver Creek), Jada Johns (White City), and Caitlyn Perlinger (Kindersley).
"When I (first) made Team Saskatchewan, it felt amazing. A remarkable feeling. One of the most accomplishing things because it's such an honour to represent Saskatchewan – in such an amazing way – in hockey," Player Jocelyn Fiala said. "It is kind of mind-blowing, at first, when you first make it because you're like, 'wow, I've come so far.' And when you're a little girl, you always dream 'I want to represent somewhere, I want to be a bigger part of this province.' And when you make it … you just want to keep getting better and better and better until you get to set higher goals for yourself."
Team staff for the Female Under-18 team is represented by Robin Ulrich (Head Coach), Deana Gelinas (Assistant Coach), Alana Serhan (Assistant Coach), Kori Herner (Assistant Coach), Emma Galloway (Athletic Therapist), Colleen Compton (Equipment Manager), Kyle McDonald (Mental Performance Consultant), and Joel Houseman (Director of Operations).
"Being the head coach of an all-female staff for Team Saskatchewan is a really great honour and something that's really special and unique. … It's something that, I think, has only happened once before, quite a long time ago. It is awesome to see that we've got to the level that we're able to field a really well-experienced and strong coaching staff," Head Coach Robin Ulrich said. "I think there's just a different connection that female coaches have with female athletes. It is going to be pretty neat, and I'm really excited about the journey ahead for our group."
"In 1995, when I went to the Canada Games (as a player), we had an all-female staff. … I think it's been a long time coming that there's an all-female staff. For a long time, I think, maybe the quality and the number of coaches to select from weren't there. And, I think, it's just a sign that there's growth in the game. It is a sign that more and more females are wanting to coach at a high level," Assistant Coach Deana Gelinas said. "Our staff is fantastic. We have a wide range of ages, abilities, specialties and backgrounds. … We really meld well together. Everybody brings a little bit of something different and, I think, the coaching package that our kids get is really well-rounded."
Team Saskatchewan has been a participant in Women's ice hockey at the Canada Winter Games since its inception in 1991. Two (2) medals have been claimed by the green and gold, with the first being Silver in 1995 and a Bronze in 2003. Most recently, Saskatchewan's Female Hockey program finished in sixth place at the 2019 Canada Winter Games.
---
The player roster will feature an entirely new squad from the 2021 Team Saskatchewan that won Bronze over its rival opponent Team Manitoba at the WHL CUP in Red Deer, Alta.
Team staff for the Male Under-16 team is Ryan McDonald (Head Coach), Brett Pilkington (Assistant Coach), Mark Peterson (Assistant Coach), Todd White (Assistant Coach), Emma Galloway (Athletic Therapist), Josh Brown (Equipment Manager), Kyle McDonald (Mental Performance Consultant), Bill Gibson (Scout), and Joel Houseman (Director of Operations).
"It's one of a kind. … I feel very fortunate that I was involved in (multiple seasons of Sask First), and then to move up the ladder with Team Saskatchewan from starting as a video coach up to assistant coach and now as a head coach – it's been an amazing journey," Head Coach Ryan McDonald said.
"My first opportunity at Sask First, I was 15 years old, 14 or 15. It was a long time ago and it was back when there were zones and I was a captain for the zone-five team at the spring tournament. And so to come kind of full circle and now be a part of the Canada Winter Games team as a coach, it's a pretty special feeling," Assistant Coach Mark Peterson said. "Looking back to my time when I played, I wish I would've had more opportunities to be involved in a program like this and I'm thankful that, now as a coach, I do. Whether it be in the zone tryouts, all the way up to going to Prince Edward Island in February, it's all little things that culminate together. And, I think, Hockey Saskatchewan does a great job of the process throughout too."
Men's ice hockey was first introduced to the Canada Winter Games in 1967, it was in 1979 that Team Saskatchewan first participated on the boy's side. The best result achieved by a Male Hockey team was gold in 1995. It was future NHL legend Patrick Marleau (Aneroid) who scored the golden goal against the host, Team Alberta. Most recently, Saskatchewan's Male Hockey program is coming off a fourth-place finish at the 2019 Canada Winter Games.
---
This completes the selection process for Team Saskatchewan's Female and Male programs. The process began with Regional Camps back in the fall of 2021 and progressed with Sask First Tournaments, Summer and Fall Camps.
The Canada Winter Games run from February 18 to March 5, 2023, in P.E.I. The Female Hockey competition follows on February 27 to March 5. Team Saskatchewan Women will open their tournament in Pool B, against Team British Columbia. The Male Hockey competition is from February 19 to 25 with Team Saskatchewan opening the preliminaries in Pool A against Team New Brunswick.
Click HERE to view the 2023 Canada Winter Games, Women's Hockey schedule.
Click HERE to view the 2023 Canada Winter Games, Men's Hockey schedule.
---
About SASK FIRST
The Sask First Program was introduced by Hockey Saskatchewan in 1988 and since that time the program has brought great pride and accomplishment within our province. The Sask First Program was designed to provide a better understanding of the game as well as to promote the development of quality players, coaches, trainers, officials and administrators. The participants are enriched as individuals and can achieve self-satisfaction and enjoyment as part of the hockey community.
---
About HOCKEY SASKATCHEWAN
Hockey Saskatchewan was established in 1912 and is the governing body for organized hockey in the Province of Saskatchewan. With a mission to Lead, Develop and Promote Positive Hockey Experiences, Hockey Saskatchewan encourages competition at all levels – from recreational to high performance. Hockey Saskatchewan has grown through the years and is Saskatchewan's largest sports organization with over 43,000 members comprised of players, coaches, and officials. For more information, please visit www.hockeysask.ca or follow us on Facebook, Twitter, and Instagram.
Back to all News