Catton's Two-goal Morning Helps Canada Clinch Hlinka Gretzky Cup Semi-final Berth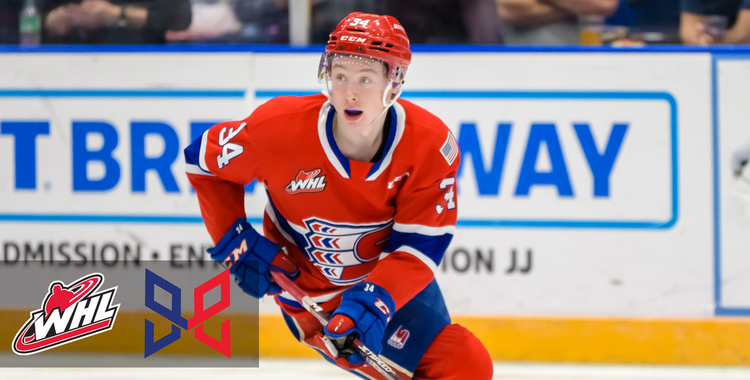 Aug
02
By Chris Wahl via Western Hockey League
Spurred on by another multi-goal effort by Spokane Chiefs forward Berkly Catton, Team Canada has found themselves sitting comfortably in the top spot of their group following a 5-0 triumph over Switzerland on Wednesday morning.
It was Brandon Wheat Kings representative, Roger McQueen, who opened up the scoring for the Canadians as he recorded his fourth goal of the tournament nearly 12 minutes into the first period.
But, it was Berkly Catton who played the hero for Canada on Wednesday.
Canada, who entered their final preliminary round match needing to win by three in order to clinch a spot in the semi-finals and by five to guarantee themselves first place in their group, looked to their captain, Catton, for help.
He delivered.
As promised, the captain registered the third goal of the morning for Canada, midway through the second frame, to give his team the semi-final berth they craved. Catton would also tack on Canada's fifth and final goal of the game, partway through the third period, to help confirm first-place in their group.
The product of Saskatoon, Sask. now leads his team in goals, with five, and his seven points through three games also leaves him second in points — just one behind of Prince Albert Raiders forward Ryder Ritchie.
Ritchie, the WHL's 2023 Rookie of the Year, added two assists to his tournament totals following Canada's clash with Switzerland — bumping his preliminary round totals up to three goals, eight points, and a tie for first in points by a Canadian.
Calgary Hitmen forward Carson Wetsch rounded out the offensive performances among WHL skaters, as he registered a secondary assist on Catton's first goal of the morning.
The top-seeded Canadians are now waiting to see who they will be matched up against in their semi-final tilt.
The semi-final round of the 2023 Hlinka Gretzky Cup is scheduled for Friday, August 4.
Back to all News