Province's Rising Hockey Talent Set to Light Up the Ice at Sask First Female U16 Tournament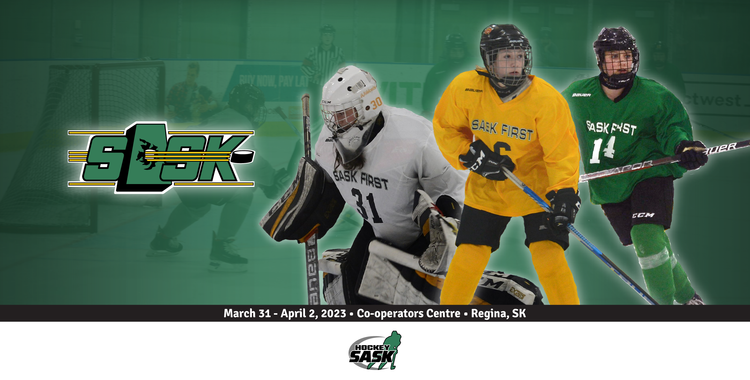 Mar
30
By Hockey Saskatchewan
REGINA, Sask. – Hockey Saskatchewan and the Sask First High-Performance Program are set to host the annual Female Under-16 Tournament from March 31 to April 2, 2023, in Regina.
The Top 134 Tournament returns to Co-operators Centre, bringing with it a contingent of young hockey players to provide them with a platform to showcase their skills and compete against the best of the best from across the province.
Evaluations during the Regional Camps in Dalmeny and Pense, Sask., held last February were used to narrow down a player pool of 249 for this upcoming tournament.
The 2008- and 2009-born players will hit the ice first thing in the morning on Friday, March 31, for team practices. Athletes will then compete on eight (8) teams in a round-robin competition. Tournament action begins on Friday afternoon and culminates with the A, B, C, and D Finals on Sunday, April 2, 2023.
TOURNAMENT HUB - Click Here For Rosters/Schedule
The Sask First program is not only a great opportunity for players to compete and improve their skills, but it is also an opportunity for them to be seen by scouts from a variety of leagues, including the Saskatchewan Female U18 "AAA" Hockey League (SFU18AAAHL).
At the conclusion of the tournament, the top 34 athletes will be chosen to attend Summer Camp in Regina from August 6-7, 2023. Ultimately, the Sask First program will select two rosters of 20 players who will compete as Team Saskatchewan at the Fall Showcase Event. The Showcase tournament will see the prospects play each other as well as clubs from the SFU18AAAHL.
This event would not be possible without the referees and linespersons selected to officiate the Sask First tournament. They will be supervised and evaluated with the aid of SODM official coaches and experienced officials.
In April, the Sask First program will return to the Co-operators Centre for the annual Female U18 and Male U18 tournaments.
The Minor Female Hockey Development Model provides knowledge of a standardized province-wide system for all players to progress from the grassroots levels through to elite play and is available for download HERE.
For more information on Hockey Saskatchewan and the Sask First program, please visit www.hockeysask.ca, or follow through social media on Facebook, Twitter, and Instagram.
---
ABOUT SASK FIRST:
The Sask First Program was introduced by Hockey Saskatchewan in 1988 and since that time the program has brought great pride and accomplishment within our province. The Sask First Program was designed to provide a better understanding of the game as well as to promote the development of quality players, coaches, trainers, and officials. The participants are enriched as individuals and can achieve self-satisfaction and enjoyment as part of the hockey community.
---
About HOCKEY SASKATCHEWAN
Hockey Saskatchewan was established in 1912 and is the governing body for organized hockey in the Province of Saskatchewan. With a mission to Lead, Develop and Promote Positive Hockey Experiences, Hockey Saskatchewan encourages competition at all levels – from recreational to high performance. Hockey Saskatchewan has grown through the years and is Saskatchewan's largest sports organization with over 43,000 members comprised of players, coaches, and officials. For more information, please visit www.hockeysask.ca or follow us on Facebook, Twitter, and Instagram.
Back to all News