Induction Class Celebrated at Ted Knight Saskatchewan Hockey Hall of Fame Banquet in Meadow Lake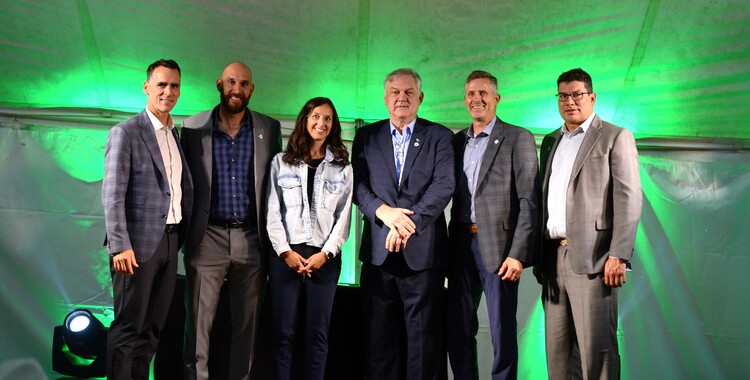 Aug
31
By Hockey Saskatchewan
MEADOW LAKE, Sask. – The 10th annual Ted Knight Saskatchewan Hockey Hall of Fame (SHHOF) Induction Dinner has concluded in Meadow Lake, marking an extraordinary milestone as the most northern banquet in the event's history.
Guests were treated to perfect weather on August 25, 2023, at the first-ever outdoor induction dinner held under a tent. The picturesque Meadow Lake Golf Club provided an idyllic setting, creating an unforgettable experience.
The passion for hockey's rich legacy was evident as 450 tickets were sold, showcasing the unwavering enthusiasm for the sport in this northern Saskatchewan community with a population of around 5,141.
"Meadow Lake's banquet reaffirmed the profound impact of hockey, weaving together the threads of history and camaraderie. It was an evening that will be etched in the memories of both attendees and the community alike," stated Hockey Saskatchewan General Manager Kelly McClintock.
"This remarkable turnout not only highlighted the passion for hockey but also showcased the undeniable charm of Meadow Lake as a hub for sports enthusiasm. The event radiated a sense of pride as these SHHOF legends of the game were celebrated for their exceptional contributions."
The accomplishments of the 2023 induction class were nothing short of remarkable. With an astonishing track record, the inductees collectively boasted eight (8) gold medals won as members of Team Canada, three (3) Stanley Cups, one (1) Memorial Cup, four (4) provincial championships, and an impressive 1,846 NHL games officiated.
Inductee Ron Greschner brought a touch of emotion speaking at the event, sharing anecdotes and proudly introducing his four (4) "Stanley Cups" – the former NHLer's beloved children who were in attendance. The induction dinner truly embodied a family atmosphere, with relatives and old friends travelling significant distances to join in the festivities.
Renowned sportscaster Darren Dutchyshen, serving as the master of ceremonies, captivated the audience and infused the ceremony with continuous energy and entertainment.
To see pictures from that night, head over to the gallery section by clicking HERE.
Hockey Saskatchewan expresses gratitude to the host committee which included Regan Beck, Brittani Duxbury, Brent Assman, Daryl Worms, Glenn Dennis Jr., Jace Andersen and Kurt Hadland.
Last but certainly not least, it's important to extend our congratulations to the six (6) new inductees who were honoured across the players, builder/grassroots, officials, and teams categories.
The five (5) inductees and one (1) team were as follows:
CLASS OF 2023 SHHOF INDUCTEES
Players Category:
Builder/Grassroots Category:                   
Officials Category:
Teams Category:
Anticipation for the 2024 induction class has already commenced. An announcement regarding the next inductees is expected in the coming months, ensuring the celebration of another set of remarkable personalities for their contributions to the hockey landscape.
To nominate a potential SHHOF inductee, click HERE.
The Ted Knight Saskatchewan Hockey Hall of Fame opened its doors in 2012, coinciding with Hockey Saskatchewan's 100th-year celebration. The SHHOF is located in Swift Current at the InnovationPlex. For more information, please visit www.saskhockeyhalloffame.com.
Legends Live Here.
---
About HOCKEY SASKATCHEWAN
Hockey Saskatchewan was established in 1912 and is the governing body for organized hockey in the Province of Saskatchewan. With a mission to Lead, Develop and Promote Positive Hockey Experiences, Hockey Saskatchewan encourages competition at all levels – from recreational to high performance. Hockey Saskatchewan has grown through the years and is Saskatchewan's largest sports organization with over 40,000 members comprised of players, coaches, and officials. For more information, please visit www.hockeysask.ca or follow us on Facebook, X (formerly Twitter), and Instagram.
Back to all News