Hockey Saskatchewan Unveils 50/50 Draw for Saskatchewan Residents During IIHF World Junior Championships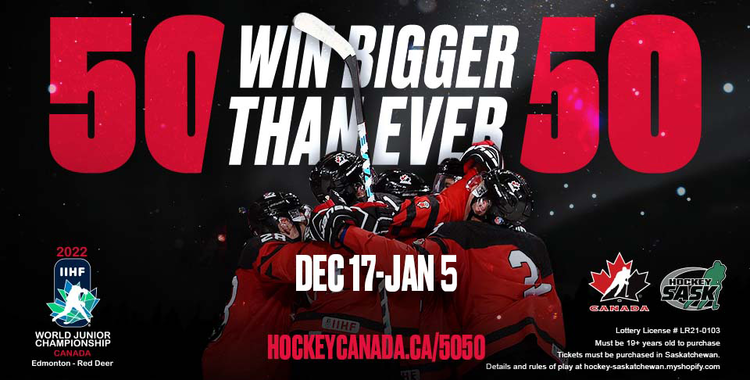 Dec
16
By Hockey Saskatchewan
Regina, Sask – Hockey Saskatchewan in partnership with Hockey Canada is excited to unveil a series of online 50/50 draws that will take place during the IIHF World Junior Championships. During this year's tournament, Saskatchewan residents will be able to purchase 50/50 tickets that directly support minor hockey in Saskatchewan.
Fans are encouraged to win bigger than ever with the 2022 IIHF World Junior Championship online 50/50 draws, starting Dec. 17 and concluding with the Gold Medal game on Jan. 5. A total of eight (8) draws will be held over the course of the pre-tournament, round robin and medal round with tickets available starting at 9:00 AM (CST) and closing at 11:00 PM (CST) on the following dates:
Dec. 23 (draw opens Dec. 17)
Dec. 26 (draw opens Dec. 24)
Dec. 28 (draw opens Dec. 27)
Dec. 29 (draw opens Dec. 29)
Dec. 31 (draw opens Dec. 30)
Jan. 2 (draw opens Jan. 1)
Jan. 4 (draw opens Jan. 3)
Jan. 5 (draw opens Jan. 5)
Tickets will be available in packages of one (1) for $10.00, forty (40) for $20.00, ninety (90) for $30.00 and two-hundred fifty (250) for $50.00. You can purchase tickets, beginning Dec. 17 at 9:00 AM (CST) by visiting https://hockey-saskatchewan.myshopify.com/
The winners of each 50/50 draw will take home half of the pot, while the other half will remain in the Saskatchewan to be reinvested into grassroots hockey programs that enable more people to get involved in the game and help improve their quality of life through hockey.
---
Lottery license #LR21-0103. Must be 19+ years old to purchase. Tickets must be purchased in Saskatchewan. For details on rules of play, visit https://hockey-saskatchewan.myshopify.com/pages/raffle-rules.
Back to all News