Hockey Saskatchewan Provides MHA/League Education Seminars to Foster Healthy Organizations in Province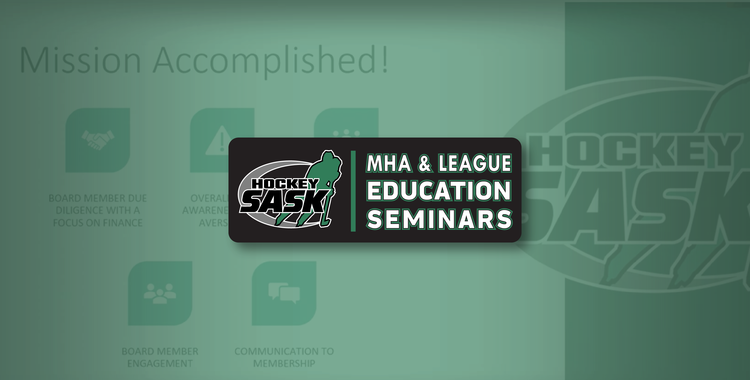 Mar
09
By Hockey Saskatchewan
REGINA, Sask. – Hockey Saskatchewan recently conducted two (2) virtual Minor Hockey Association (MHA) and League Educational Seminars. These presentations were led by Wendy Plandowski, a non-profit management consultant, and designed to provide valuable insights to assist in the organizational efforts of associations around the province.
"The seminars are part of our ongoing efforts to support MHAs and Leagues across the province," said Tim Hubic, Board Chair of Hockey Saskatchewan. "We are committed to providing valuable resources and education to help associations improve their operations and therefore enhance players' experiences."
The first seminar, which was held on February 22, 2023, focuses on the intended roles and responsibilities of board members and executive leadership. The seminar aims to help participants understand their duties and how to work together effectively to achieve their goals. Membership feedback showed the seminar was well attended, and participants found it to be informative and engaging.
For the second seminar, Plandowski covered a wide range of topics including board accountability, financial literacy as well as running effective and efficient meetings. Attendees were able to learn about key concepts such as budgeting, financial reporting, and meeting agendas, which are all critical to the success of any non-profit organization.
Both seminars, which are roughly one-and-a-half hours in duration, are a great online resource for any interested association or league around the province. Any MHA or board members from local associations/leagues who wish to partake in these educational meetings are welcome to view the recordings HERE.
"Overall, the seminars were a resounding success, and Hockey Saskatchewan is already planning more similar events in the future," said McClintock. "The seminars demonstrated the value of ongoing education and professional development for associations as well as the importance of having knowledgeable and skilled individuals leading minor hockey organizations."
These MHA/League Educational Seminars align with objectives outlined in Hockey Saskatchewan's 2022-25 Strategic Plan. To view the plan's Roadmap, click HERE.
Shaping Character for Life… More Than a Game.
---
About HOCKEY SASKATCHEWAN
Hockey Saskatchewan was established in 1912 and is the governing body for organized hockey in the province of Saskatchewan. With a mission to lead, develop and promote positive hockey experiences, Hockey Saskatchewan encourages competition at all levels – from recreational to high performance. Hockey Saskatchewan has grown through the years and is Saskatchewan's largest sports organization with over 43,000 members comprised of players, coaches, and officials. For more information, please visit www.hockeysask.ca or follow us on Facebook, Twitter, and Instagram.
Back to all News