Hockey Saskatchewan Names 11 Officials Selected for 2022 Sask First Female U16 Hockey Tournament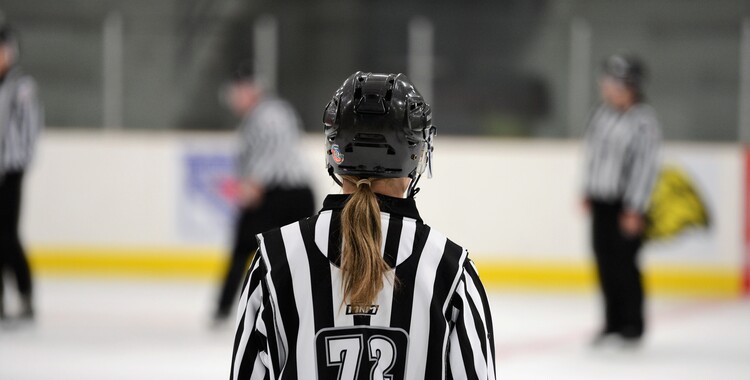 Mar
29
By Hockey Saskatchewan
REGINA, Sask. – Eleven Officials have been selected by Hockey Saskatchewan for the Sask First Female Under-16 Tournament. The event will take place in Regina, Sask., from April 1-3, 2022, at the Co-operators Centre.
"Most officials have been identified from one of Hockey Saskatchewan's Female Sask First Camps on Feb. 5 and 6 and selected to participate in the Sask First Female U16 Tournament," says Trent Cey, manager of officiating development with Hockey Saskatchewan.
OFFICIALS SELECTED FOR THE TOURNAMENT
Sask First Female U16 Tournament (Regina)

Name  

Hometown

Emma Benoit

Marsden, Sask.

Delaney Britton

Regina

Shayla Close

Kindersley, Sask.

Jenna Dueck

Prince Albert, Sask.

Paige Haskey

Wadena, Sask.

Elena Kohlman

Saskatoon

Arizona LaClare

Tisdale, Sask.

Megan Long

Regina

Makenna Marton

Kipling, Sask.

Dakota Peterson

Saskatoon

Kienna Schlosser

Regina
Official Coaches
Alex Clarke
Jessica Coleman
Cianna Lieffers
Michelle Stapleton
Barry Schrader
The chosen Officials' schedule includes information and classroom sessions, a State the Referee's Decision practice exam, video review, an on-ice power skating session, and five to six full games over three days for all officials. They will be officiating games and be supervised and evaluated with the aid of Saskatchewan Officiating Development Model (SODM) Official Coaches and experienced female officials which include 2022 Olympic Officials Alex Clarke and Cianna Lieffers.
"Congratulations, to the officials selected and identified as prospects to continue their development in the officiating program. We look forward to seeing everyone this weekend and tracking their progress," says Cey.
For more information on the Hockey Saskatchewan Officiating Program, visit https://hockeysask.ca/officials/resources.
---
ABOUT SASK FIRST:
The Sask First Program was introduced by Hockey Saskatchewan in 1988 and since that time the program has brought great pride and accomplishment within our province. The Sask First Program was designed to provide a better understanding of the game as well as to promote the development of quality players, coaches, trainers, and officials. The participants are enriched as individuals and can achieve self-satisfaction and enjoyment as part of the hockey community.
---
For more information on Hockey Saskatchewan and the Sask First program, please visit www.hockeysask.ca, or follow through social media on Facebook, Twitter, and Instagram.
Back to all News