Hockey Saskatchewan Launches World Junior 50/50 Draw to Support Grassroots Initiatives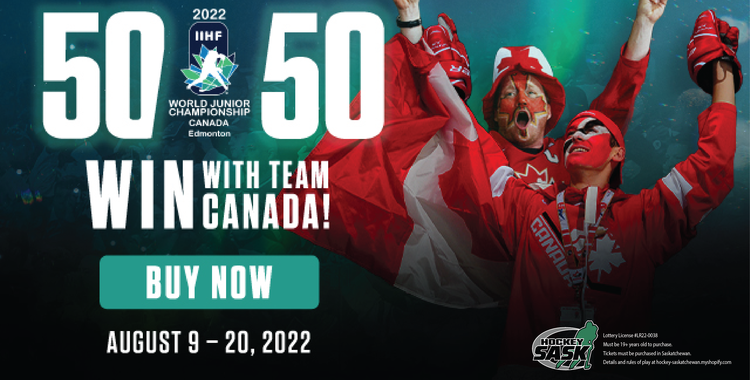 Aug
09
By Hockey Saskatchewan
REGINA, Sask. – Hockey Saskatchewan has announced an online 50/50 will be available to be played within the province for the 2022 IIHF World Junior Championship held Aug. 9-20.
The winner of the draw will take home half of the pot, while the other half will remain in Saskatchewan to be reinvested into grassroots initiatives that enable more people to get involved in hockey and help improve their quality of life through the game.
During the tournament, Saskatchewan residents are encouraged to win bigger than ever whiles purchasing 50/50 tickets that directly support minor hockey within the province's borders. A single (1) draw will be held throughout the round robin and medal round with tickets available starting at 9:00 AM (MT) on Aug. 9 and closing at 11:00 PM (MT) on Aug. 20.
Tickets will be available in packages of one (1) for $10.00, forty (40) for $20.00, ninety (90) for $30.00 and two-hundred fifty (250) for $50.00. You can purchase tickets by visiting https://hockey-saskatchewan.myshopify.com/.
The 2022 IIHF World Junior Championship will take place a Rogers Place in Edmonton, with a trio of preliminary games before Under-20 Team Canada kicks off its quest for a Gold Medal against Latvia at 4 p.m. MT on Aug. 10.
For more information on the 10-team tournament, please visit the official website at 2022.worldjuniors.hockey.
---
Lottery license #LR22-0038. You must be 19 years of age or older to purchase a 50/50 ticket and must be in Saskatchewan (SK) at the time of purchase. For details on rules of play, visit https://hockey-saskatchewan.myshopify.com/pages/raffle-rules.
The draw will close at 11:00 p.m. MT on Aug. 20 and the winning number will be posted on Hockey Saskatchewan's website and Twitter shortly after.
---
About HOCKEY SASKATCHEWAN
Hockey Saskatchewan was established in 1912 and is the governing body for organized hockey in the Province of Saskatchewan. With a mission to Lead, Develop and Promote Positive Hockey Experiences, Hockey Saskatchewan encourages competition at all levels – from recreational to high performance. Hockey Saskatchewan has grown through the years and is Saskatchewan's largest sports organization with over 43,000 members comprised of players, coaches, and officials. For more information, please visit www.hockeysask.ca or follow us on Facebook, Twitter, and Instagram.
Back to all News