Hockey Saskatchewan Launches Mobile App Powered by Directwest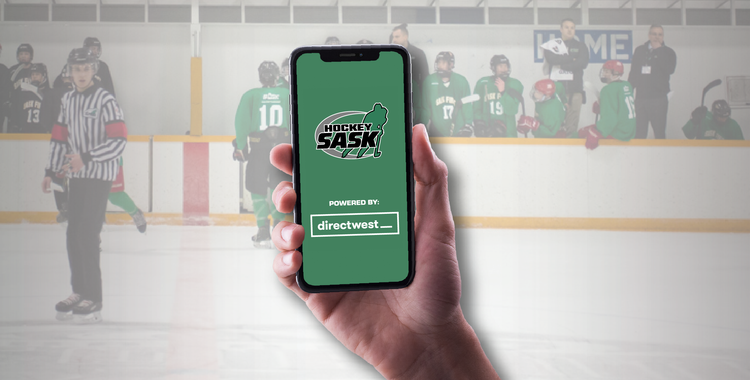 Sep
16
By Hockey Saskatchewan
Thursday, September 16, 2021 - Hockey Saskatchewan has launched an exciting new digital platform just in time for the 2021-22 season. The Hockey Sask App powered by Directwest is a mobile application that is now available, free of charge, on the App Store (Apple) and Google Play (Android). The partnership with Directwest allows us to expand our digital foot print and provide membership with even greater access to news and information.
The Hockey Sask App will feature a written news section, video content such as Podcasts and Development Webinars, a space for the new digital Handbook, and convenient access to the Provincial Playoff brackets in the new year.
To download the mobile app from the Apple App Store, click HERE
To download the mobile app from the Google Play App Store, click HERE
About DIRECTWEST
Directwest, a wholly-owned subsidiary of SaskTel, has been connecting buyers and sellers across Saskatchewan for over 100 years. Offering a suite of digital marketing services from website design to digital advertising management, Directwest continues to launch innovative and customer driven products and services while delivering strong, measurable return on investment for their customers. Directwest is home to the largest inventory of digital billboards province-wide and is also the exclusive provider of Mysask411 with local information available in print, web, and mobile app. Directwest's head office is in Regina, Saskatchewan and has an office in Saskatoon.
About HOCKEY SASKATCHEWAN
Hockey Saskatchewan was established in 1912 and is the governing body for organized hockey in the Province of Saskatchewan. With a mission to Lead, Develop and Promote Positive Hockey Experiences, Hockey Saskatchewan encourages competition at all levels – from recreational to high performance. Hockey Saskatchewan has grown through the years and is Saskatchewan's largest sports organization with over 43,000 members comprised of players, coaches, and officials. For more information, please visit www.hockeysask.ca or follow us on Facebook, Twitter, and Instagram.
Back to all News