Zones 1-4: Hockey Saskatchewan's Most Promising Official Winners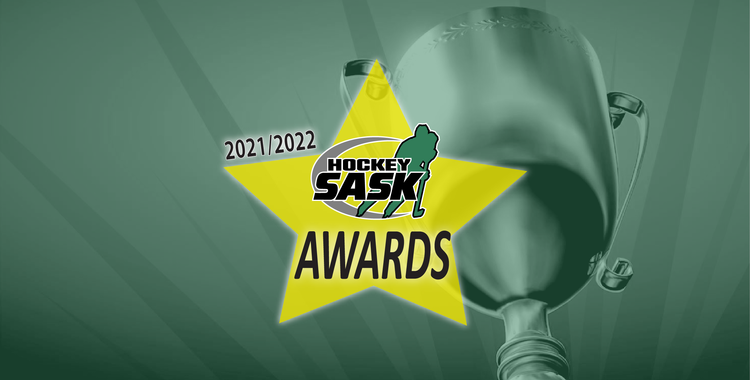 Jul
13
By Hockey Saskatchewan
The criteria for the prestigious Most Promising Official Award is for an official who is recognized as being the most promising to advance to higher levels of hockey.
All four of these Zone winners create a lot of excitement and potential to excel as officials. Past winners include American Hockey League referee Adam Bloski (2011-12), recent IIHF U18 Women's World Championship official June Michelle Stapleton (2006-07), and 2022 Centennial Cup Final referee Bryce Sebastian.
(Zone 1) Ben Solomon – Emerald Park
Ben Solomon's Junior hockey career was cut short due to injuries and so he went back to officiating after a six-year break in 2019-20. Ben got his feet wet working a lot of minor hockey games for Prairie Storm and AA games in his first season as well as a taste of senior hockey. Maybe the best attribute Ben brought to the ice was the infectious smile he wore on the ice. That, coupled with a positive attitude and his skating ability and understanding of the game has presented him with opportunities to work in provincial games, as well as the SJHL with a goal to reach the WHL in the coming seasons. He was also selected to attend the Saskatchewan Member High Performance (MHP) official camp last season before it was postponed due to COVID-19.
(Zone 2) Aidan Slusar – Regina
Aidan Slusar seemingly has come out of nowhere in his fifth season. He showed up at the Sask First Regional Camp in Lumsden in December and grabbed the attention of the official coaches and assignors, as he looked like a well-polished, experienced official at that level. Since then, he has had more challenges thrown his way and met each one with flying colours. Aidan, a U18 goalie and high school hockey player, earned the gold medal referee spot at the Sask First U18 Tournament in April and was also assigned a U18 AA Tier II provincial championship game, as well as a handful of Junior B and AAA games to cap off his season at just 17 years old.
(Zone 3) Jacob Michelson – Moose Jaw
It was a busy winter for Jacob Michelson who not only was in his fifth year of officiating but also played at the Prairie Hockey Academy on the U18 prep team. He did manage to work a number of games this season including attending the Sask First U18 Regional Camp in Lumsden in February and was impressive at that event. Jacob has hockey aspirations to pursue for the time being, but if he continues to stay involved in officiating more opportunities on that side of the game will pop up for him. He skates well, understands the game and started officiating U15 AA and senior hockey this season as well as earning one provincial championship assignment.
(Zone 4) Logan Halarewich - Melville
Logan Halarewich is another official who split time between officiating and his last season of U18 hockey. Small in stature, but another official who skates well and has a good understanding of the game. He attended Sask First camp and was selected to work games at the U15 Top 80 and Top 160 Tournaments last season. Logan recently signed on to play with the Fort Knox Storm of the Prairie Junior Hockey League but will be a reliable official as well in that area. He is someone who's just starting to get a taste of the Saskatchewan Officiating Development Model (SODM) leagues as an official after going through some of them as a player.
The Hockey Saskatchewan Officiating Development Program would like to congratulate the four Zone winners of the Most Promising Official Awards and, once again, would like to congratulate the other winners in the Most Deserving and Most Promising categories. Next season, the awards will rotate to zones five through eight.
Each of the winners has also been nominated as the Saskatchewan representative for the Hockey Canada Most Promising Official Award which will be announced in August.
Back to all News