Thanks Stripes: Most Promising Official Award Winner 2020-21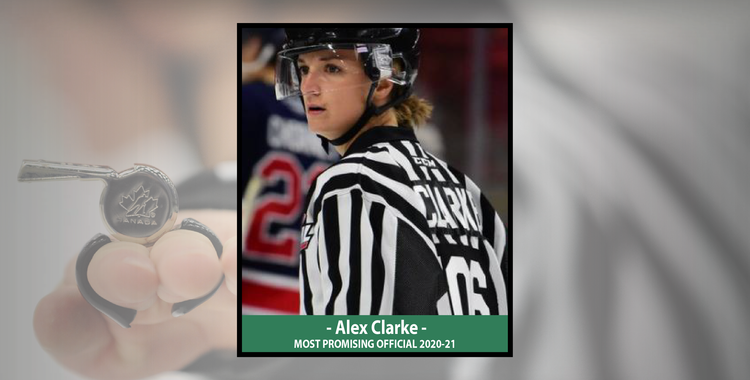 Jan
23
By Hockey Saskatchewan
REGINA, Sask. – The final award to be recognized during Hockey Saskatchewan's Thanks Stripes Weekend is for the Most Promising Official. Again, with a shortened 2020-21 season, many officials didn't get an opportunity to work many games, but one did get some opportunities and she continues to prove why she was selected for this recognition.
Alex Clarke, who is originally from Drake and now resides in Weyburn, was the Hockey Canada Most Promising Official Award Winner last season.
Since returning to the ice wearing the stripes in 2015 after playing college hockey, Clarke has shot up the ranks locally, provincially, nationally, and internationally.
Clarke received assignments last season for the Women's World Championship, which was postponed and later hosted in August. She was also selected for the Esso Cup and the NWT Rivalry Series.
Despite limited options on the ice, Clarke has carried that momentum into this season as she was the first female to be an official in the Western Hockey League, one of the first females to work in the American Hockey League, and is currently counting down the days before she leaves to officiate in the Beijing Winter Olympics.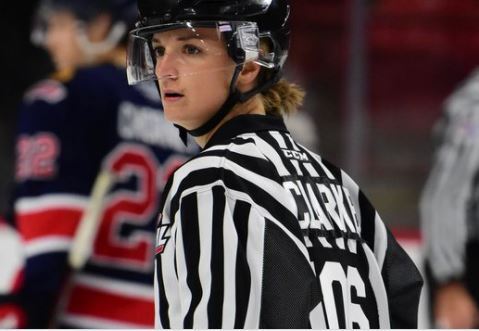 Clarke has been a leader and mentor for female officials in the province. In addition to working as an instructor and official coach for Hockey Saskatchewan, she does this all while being a mother, wife, and employee for Farm Credit Canada.
She joins Saskatchewan officials Adam Bloski (2011-12) and Graham Skilliter (2001-02) among many others to win the Hockey Canada Most Promising Official Award and the first female from Saskatchewan to win that award as well.
---
About HOCKEY SASKATCHEWAN
Hockey Saskatchewan was established in 1912 and is the governing body for organized hockey in the Province of Saskatchewan. With a mission to Lead, Develop and Promote Positive Hockey Experiences, Hockey Saskatchewan encourages competition at all levels – from recreational to high performance. Hockey Saskatchewan has grown through the years and is Saskatchewan's largest sports organization with over 43,000 members comprised of players, coaches, and officials. For more information, please visit www.hockeysask.ca or follow us on Facebook, Twitter, and Instagram.
Back to all News