Thanks Stripes: Most Improved Official Award Winner 2020-21
Jan
21
By Hockey Saskatchewan
REGINA, Sask. – With today kicking off Hockey Saskatchewan's Thanks Stripes Weekend from Jan. 21st to 23rd, 2022, it provides an opportunity to acknowledge the officiating award winners from last season.
In a normal Hockey Saskatchewan season, the Officiating Development Program would select four (4) zone winners, which would have been from Zones 1, 2, 3, and 4. Then one winner from that group would be chosen as the receipt of the Hockey Canada Award in categories that include Most Improved, Most Promising and Most Deserving.
Due to a shortened season and minimal opportunity for many officials to get on the ice, there were no zone award winners chosen for the 2020-21 season. However, winners were chosen for the Hockey Canada Awards in each of those three categories.
The Hockey Saskatchewan Officiating Development Program would like to recognize Josh Sauverwald of Kerrobert, as the receipt of the 2020-21 Most Improved Official Award. Sauverwald attended the SaskFirst Camp in Lumsden this past summer and was impressive from the start. He had been primarily working at the grassroots levels, but from that camp was identified as an official to watch and to get opportunities within the SODM at the AA, AAA, and PJHL levels.
Sauverwald, 19, has been officiating since the 2011-12 season, has developed strong fundamentals, and now is a pleasant surprise to official coaches watching him for the first time this season. He is currently attending a post-secondary school in Saskatoon.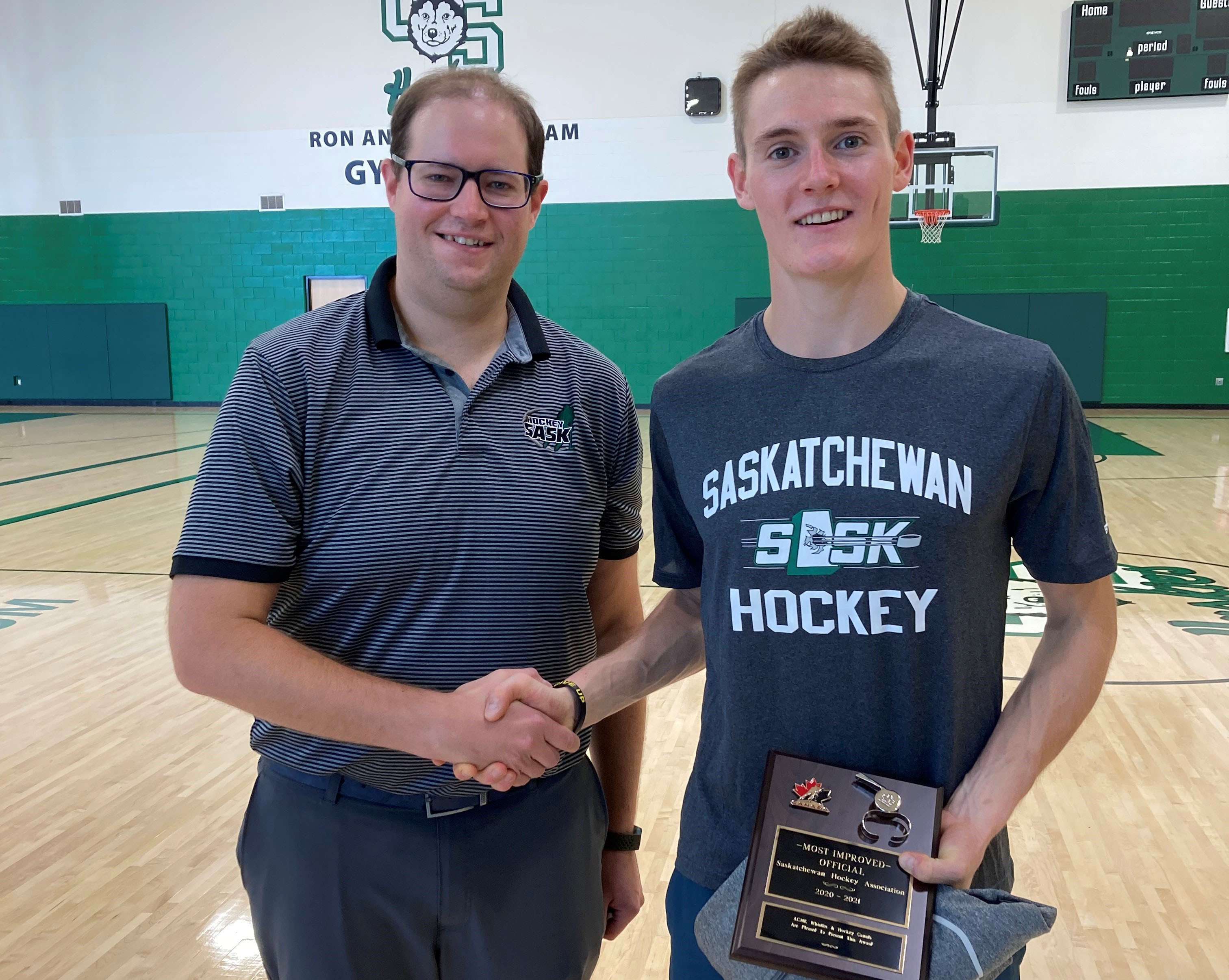 The recipient joins a list of past winners that include: Tarrington Wyonzek (2008-09), who is now a linesperson in the AHL and has worked multiple international assignments including the World Juniors in Edmonton as well as Memorial Cups; and Brad Meier (1991-92), who is a current NHL referee with more than 1,400 games as well as Winter Olympic, and Stanley Cup Finals appearances.
Winners of the Hockey Canada Most Promising and Most Deserving Official Awards will also be highlighted during the #ThanksStripes Weekend.
---
About HOCKEY SASKATCHEWAN
Hockey Saskatchewan was established in 1912 and is the governing body for organized hockey in the Province of Saskatchewan. With a mission to Lead, Develop and Promote Positive Hockey Experiences, Hockey Saskatchewan encourages competition at all levels – from recreational to high performance. Hockey Saskatchewan has grown through the years and is Saskatchewan's largest sports organization with over 43,000 members comprised of players, coaches, and officials. For more information, please visit www.hockeysask.ca or follow us on Facebook, Twitter, and Instagram.
Back to all News