Road to the 2023 Esso Cup: Regina Rebels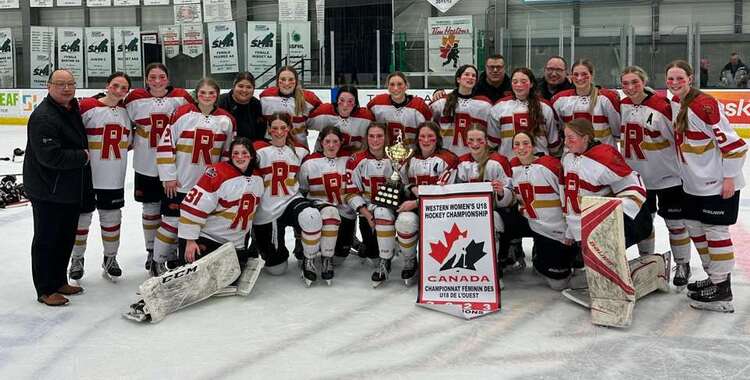 Apr
21
By Shannon Coulter via Hockey Canada
After consistently finishing as one of the top two teams in the Saskatchewan Female U18 AAA Hockey League (SFU18AAAHL) since 2018-19, the Regina Rebels are returning to the Esso Cup.
It's Regina's first appearance at the Women's U18 National Club Championship since 2013. Although the team has been near the top of the SFU18AAAHL standings for four seasons, this year's edition of the Rebels has nine first-year players on its team: seven forwards, one defender and one goaltender.
When the team hits the ice in Prince Albert, look out for the Rebels' speed and aggressive style of play.
"We're very aggressive on the puck," says head coach Mike Merk. "We're a team that doesn't want to really give teams a lot of time to set up. We tend to play a bit more of a pressure game when we're on the puck."
With a large group of new players to the Rebels, having the right leadership from the start of the season was key to the group's success.
"We've had comments from the girls that this has probably been one of the best dressing rooms they've been in," Merk says. "I played as a player myself on the boys' side and made it and won the national championship (at the 1988 Air Canada Cup), and I know our dressing room was important then. As a coach, it's been very important to me that the team sticks together as well as just buying into what we're trying to accomplish."
That strong culture has helped Regina to dig deep in tough games. At the West Regional, both games against the Winnipeg Ice went into overtime, but the Rebels found a way to sweep the series and book their ticket to the Esso Cup.
The Rebels' playoff mentality to this point is straight-forward: never expect anything and always earn it.
"We've gone through playoffs where they have never taken anything for granted and know that we have to play every night," he says. "I think if they carry that into the week, who knows what can happen."
HOW THEY GOT TO PRINCE ALBERT
Saskatchewan Female U18 AAA Hockey League
Semifinal: defeated Notre Dame Hounds 2-1 (9-2, 1-2, 1-0)
Final: defeated Saskatoon Stars 2-1 (5-3, 1-3, 6-0)
West Regional
Championship: defeated Winnipeg Ice 2-0 (4-3 2OT, 5-4 OT)
REGULAR SEASON
Record (W-OTW-OTL-L): 24-1-0-5 (1st in SFU18AAAHL)
Goals for: 139 (1st in SFU18AAAHL)
Goals against: 60 (3rd in SFU18AAAHL)
Longest winning streak: 10 (Jan. 11-Feb. 25)
Top 3 scorers:
Greta Henderson – 36G 29A 65P (1st in SFU18AAAHL)
Stryker Zablocki – 25G 15A 40P (5th in SFU18AAAHL)
Berlin Lolacher – 14G 26A 40P (7th in SFU18AAAHL)
PLAYOFFS
Record: 6-2
Goals for: 32
Goals against: 17
Top 3 scorers:
Greta Henderson – 9G 5A 14P
Ashley Grice – 4G 8A 12P
Stryker Zablocki – 7G 4A 11P
NATIONAL CHAMPIONSHIP HISTORY
2013 – Regina Rebels | fourth place | 3-2 | 17GF 11GA
2010 – Regina Rebels | fourth place | 3-2 | 12GF 10GA
PLAYERS TO WATCH
GRETA HENDERSON
strong power forward … offensively talented … league's leading scorer … team captain
BROOKLYN NIMEGEERS
outstanding defender … agile player ... strong skater … good two-way play
STRYKER ZABLOCKI
rookie of the year … quick on the ice … agile skater … talented, skilled player
UNIVERSITY COMMITMENTS
Amber Daley – St. Thomas University
Ashley Grice – Mount Royal University
Greta Henderson – St. Cloud State University
Jada Johns – University of Calgary
Brooklyn Nimegeers – Princeton University
Chloe Sorenson – Minot State University
Back to all News