Road to the 2023 Centennial Cup: Battlefords North Stars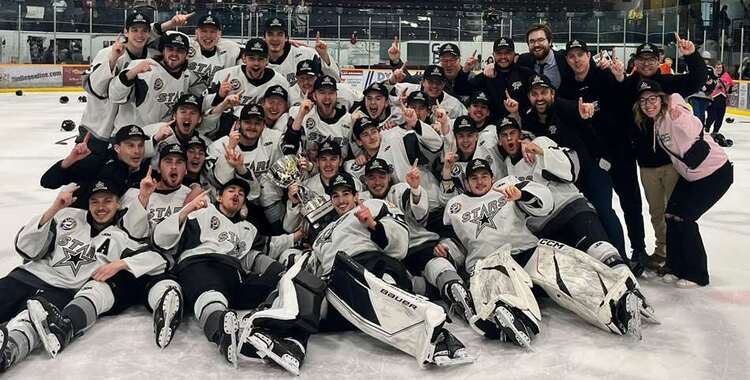 May
07
By Nicholas Pescod via Hockey Canada
The Battlefords North Stars are finally going to the big dance after more than 20 years of trying and they're doing it on the heels of a historic season.

Not only did they win the Canterra Seeds Cup, their first Saskatchewan Junior Hockey League (SJHL) championship since 2019, running through the postseason with a 12-1 record, but they set franchise records for most points in a single season (99) and winning percentage (.884) and they tied the record for most wins in a single season (48).

"We did a really great job of pushing our limits as a hockey club," says Battlefords head coach Brayden Klimosko.

Push their limits they did. The North Stars absolutely dominated the regular season, going 33-0-2-1 in the first half — they didn't lose a game in regulation until Jan. 14 — and finishing first in the SJHL with an impressive 48-5-2-1 record. The power play converted at 24.8 per cent and they gave up just 138 goals, the fewest of any team in the league.

"The best part about it is how close the guys are in the chemistry we have amongst our group," says Klimosko.

Powering the North Stars this season were SJHL's top four point-getters – Kian Bell, Holden Doell, Jake Southgate and Steve Kesslering – who combined for 353 points. Bell led the league with 102 points, including 54 goals and 48 assists, and became the first North Stars player to score 50 goals in a season since his uncle Martin Smith in 1991-92.

At the other end of the ice, Josh Kotai was rock-solid for the North Stars, allowing just 92 goals in 39 games and posting a league-leading 2.39 goals against average and .935 save percentage.

"I think the reason why we're so successful is how we score goals, but also our goaltender, and at the end of the day we feel like we have as good a chance as anybody and we feel like we are going to win a lot of hockey games because of Josh Kotai," says Klimosko.

While it's easy to look at the offensive prowess of the North Stars and their goaltending, the head coach says they are better defensively than most people think or give them credit.

"I think one thing that people don't give the respect that, you know, that they should is our defence," says Klimosko. "We've got what we feel like are six really solid defencemen. We got a mixture of guys that can play offence and we got some guys that can defend."

Over the hump
Though Battlefords has had good teams over the past decade — it has finished first or second in the SJHL in seven of the last nine seasons and won what was then known as the Canalta Cup in 2017 and 2019 — its trip to the Centennial Cup will be it's first since 2000.
 Klimosko, in his fifth season as head coach, says what separates the current iteration of the North Stars from past ones is the closeness of the players and their talent.
 "We have 24 guys on our team that just seriously just love being around each other cheer for each other and hope for the best for each other and I think that's the biggest reason why we've been so successful."
HOW THEY GOT TO PORTAGE
Saskatchewan Junior Hockey League
Quarterfinal: defeated Weyburn 4-1 (2-3, 5-2, 3-0, 6-1, 7-4)
Semifinal: defeated Melfort 4-0 (5-2, 7-1, 1-0 2OT, 5-2)
SJHL championship: defeated Flin Flon 4-0 (5-2, 3-0, 6-2, 7-4)
REGULAR SEASON
Record (W-L-OTL-SOL): 48-5-2-1 (1st in SJHL)
Goals for: 284 (1st in SJHL)
Goals against: 138 (1st in SJHL)
Power play: 61 for 246 (24.8% – 3rd in SJHL)
Penalty killing: 174 of 217 (80.2% – 6th in SJHL)
Longest winning streak: 16 (Nov. 12-Jan. 13)
Top 3 scorers:
Kian Bell – 51G 54A 102P (1st in SJHL)
Holden Doell –33G 67A 100P (2nd in SJHL)
Jake Southgate – 25G 57A 82P (3rd in SJHL)
PLAYOFFS
Record: 12-1
Goals for: 62
Goals against: 23
Power play: 13 for 54 (24.1%)
Penalty killing: 45 of 52 (86.5%)
Top 3 scorers:
Kian Bell – 16G 9A 25P
Jake Southgate – 6G 16A 22P
Holden Doell –5G 15A 20P
NATIONAL CHAMPIONSHIP HISTORY
2000 – North Battleford North Stars | 4th place | 2-2 | 10GF 13GA
COMMITMENTS
Holden Doell – Ferris State University (2023-24)

Zane Florence – Northern Alberta Institute of Technology (2023-24)

Steven Kesslering – Niagara University (2023-24)

Josh Kotai – Augustana University (2023-24)

Jake Southgate – Lindenwood University (2023-24)

Emmett Wurst – College of St. Scholastica (2023-24)
CJHL TOP 20 RANKINGS
Sept. 26 – 5th
Oct. 9 – 1st
Oct. 16 – 2nd
Oct. 24 – 1st
Oct. 31 – 1st
Nov. 7 – 1st
Nov. 14 – 1st
Nov. 21 – 1st
Nov. 28 – 1st
Dec. 5 – 1st
Dec. 12 – 1st
Dec. 19 – 1st
Jan. 9 – 1st
Jan. 16 – 1st
Jan. 23 – 4th
Jan. 30 – 1st
Feb. 6 – 1st
Feb. 13 – 1st
Feb. 20 – 2nd
Feb. 27 – 2nd
March 6 – 2nd
Back to all News