Resources for Canadian Coaches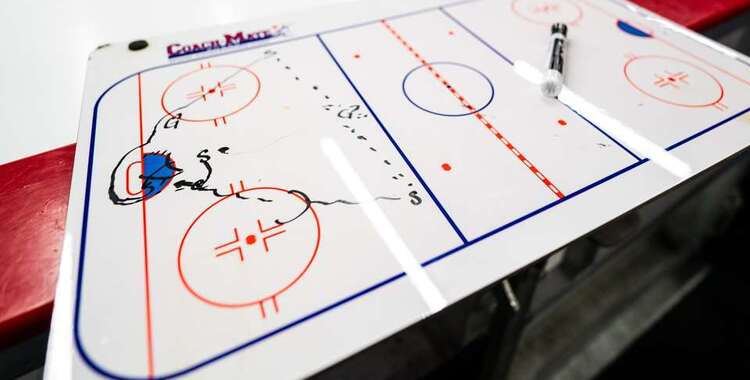 Sep
17
By Shannon Coulter via Hockey Canada
Coaches are the backbone of the hockey community. Whether you are a regular behind the bench or it's your first season as a coach, Hockey Canada has a variety of resources available to help you succeed on your coaching journey.
How do I start my coaching journey?
If you want to get started coaching, make Hockey Canada's National Coach Certification Program (NCCP) your first stop. This program enables coaches to build their coaching tools and knowledge of the game to work effectively with their players. Hockey Canada offers six coaching clinics and five instructional stream areas of focus.
Those looking to be trained to coach in the Community Sport stream can participate in Coach 1 — Intro to Coach or Coach 2 — Coach Level. NCCP certification is not required at either of these levels; a coach will remain trained indefinitely after completing these streams. Register for a coaching clinic or visit your Member website for more information.
Respect in Sport
The Respect in Sport Activity Leader/Coach program is an engaging and easy-to-use online training course that helps hockey coaches and youth leaders recognize, understand and respond to issues of bullying, abuse, harassment and discrimination. The course also aims to build a holistic culture of respect within the sports community and provide fundamental training tools to enable all coaches to become even better role models for the young athletes in their care.
In Canadian hockey, more than 230,000 coaches are certified by the Respect Group Inc.
Skills and drills
The Hockey Canada Network gives coaches and players the tools to succeed with drills, skills, videos, practice plans and articles on their tablet or phone. There are over 1,500 drills and more than 100 lesson plans available on the app, with more added throughout the season.
Looking for more drill inspiration? Hockey Canada will frequently post skill videos on its social channels that can be incorporated into practice plans. Search the hashtag #HCSkillsCoach and #HCGoalieCoach on X (formerly known as Twitter), Facebook and Instagram to find more drill videos to utilize on the ice.
Drill Hub is another resource available to find skills and drills for players. It is a free resource for coaches to access hundreds of drills and videos. There are also pre-made practice plans available to download, along with templates for game rosters, player stats, scouting reports and more.
Women in coaching
We Are Coaches
As a free, women-only coach program, We Are Coaches was designed to increase the number of trained women coaches in Canada in order to provide mentors and role models for young participants. The program aims to build infrastructure to support and sustain the participation of girls and women in hockey in Canada, develop women role models and leaders within the hockey community and remove barriers to coaching education for women.
Women Master Coach Developer
Launched in 2019, the Women Master Coach Developer (WMCD) program introduces more hockey coaching programs led by women. The program has equipped 38 coach leaders to not only deliver coach clinics, but also train future facilitators and evaluators in each Member.
To participate in the program, delegates can be nominated by their Member each season. Delegates are required to complete multiple trainings and certifications in the program, and upon successful completion, they will take a leadership role to optimize the delivery of the We Are Coaches program and support women coaches within their communities.
Creating Coaches
In 2021, the Hockey Canada Foundation partnered with U SPORTS to launch Creating Coaches, a program designed to increase the number of women in coaching positions in Canada. This two-year mentorship program places a focus on training, mentoring and empowering women behind the bench.
Candidates for the program are nominated by their U SPORTS coaches to participate in Creating Coaches.
How do I get further coaching support?
Are you looking for more support? Do you have a question about coaching in your community? Hockey Canada and its Members have coaching resources and helpful staff available to help you on your coaching journey.
Click here to find the coaching contact information for your Member.
Do you have more questions about coaching? Visit these Frequently Asked Questions pages to learn more about the following topics:
Back to all News