Métis Hockey Royalty Giving Back to Game in Meadow Lake, Sask.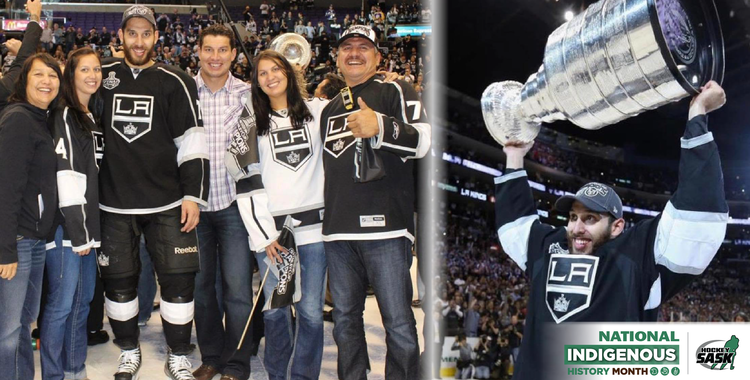 Jun
21
By Thomas Piller via Hockey Saskatchewan
MEADOW LAKE, Sask. – There is a Métis family in northern Saskatchewan whose love for hockey runs so deep that it extends across generations.
Aside from their last name, the King family has risen to hockey royalty in the city of Meadow Lake, Sask., by making their mark at multiple levels of the game and giving back to the future of the sport.
HOCKEY FAMILY
The four King siblings are comprised of former NHLers D.J. King and Dwight King as well as Danene Kopperud and Dayna King who are University of Saskatchewan Huskies women's hockey team alumni.
"(Hockey) was essential growing up … Very fortunate that we had parents and family that put us in positions to be successful and gave us the opportunity," Dwight said.
"Living up here is tough to manage with four kids but we were fortunate enough that (my parents) seen we cared enough and dedicated enough of our time and effort that they thought we would do something, essentially, with the passion of hockey."
Two-time Stanley Cup champion Dwight King has since retired from professional hockey and has since laid down roots in his hometown of Meadow Lake, which is approximately 520 kilometres northwest of Regina.
"I played (in the NHL) for roughly eight years, mostly with the Los Angeles Kings and a little bit with the Montreal Canadiens … Overall, it was quite the ride for playing a game of hockey," Dwight said.
"I was fortunate enough to win the Stanley Cup (in 2012 and 2014) … Both experiences were a little different as most championship experiences are but to just be able to reach that, at that level, was obviously a childhood thing that transpired over 20-odd years.
"To get there and be able to share that with my family and friends … it was what every kid dreams of."
ADVERSITY
As a Métis player, Dayna recalled dealing with adversity in her hockey career.
"The biggest adversity was how our history as Indigenous people is still alive, living, and ongoing … As I got older, I'm a lot stronger at using my voice and vocalizing what's not OK, but that was probably one of many big challenges," Dayna said.
"A lot of my adversity, it was more off-ice conversations … It was kind of shocking that no matter how hard I worked, they just couldn't see it as enough.
"I felt like I was doing everything in my power and nothing was enough … For the amount of points I was getting, it sure didn't reflect in the ice time I was getting. I had to work hard for my little-better shifts."
The main thing that kept Dayna from quitting the sport was family.
"My sister was a big support, but my parents (Donna and Dwayne) really helped me be resilient," Dayna said.
"I was ready to pack it in and be done and my dad said, 'nope, you're not quitting.' He didn't speak lots, my dad, but when he spoke, you knew what he meant.
"My mom said, 'that's what they want, my girl. They want you to break down. They want you to give up. Don't give them the power to do that to you.' And she said, 'you go and you play your heart out, and don't you let them take away your love for that game.'"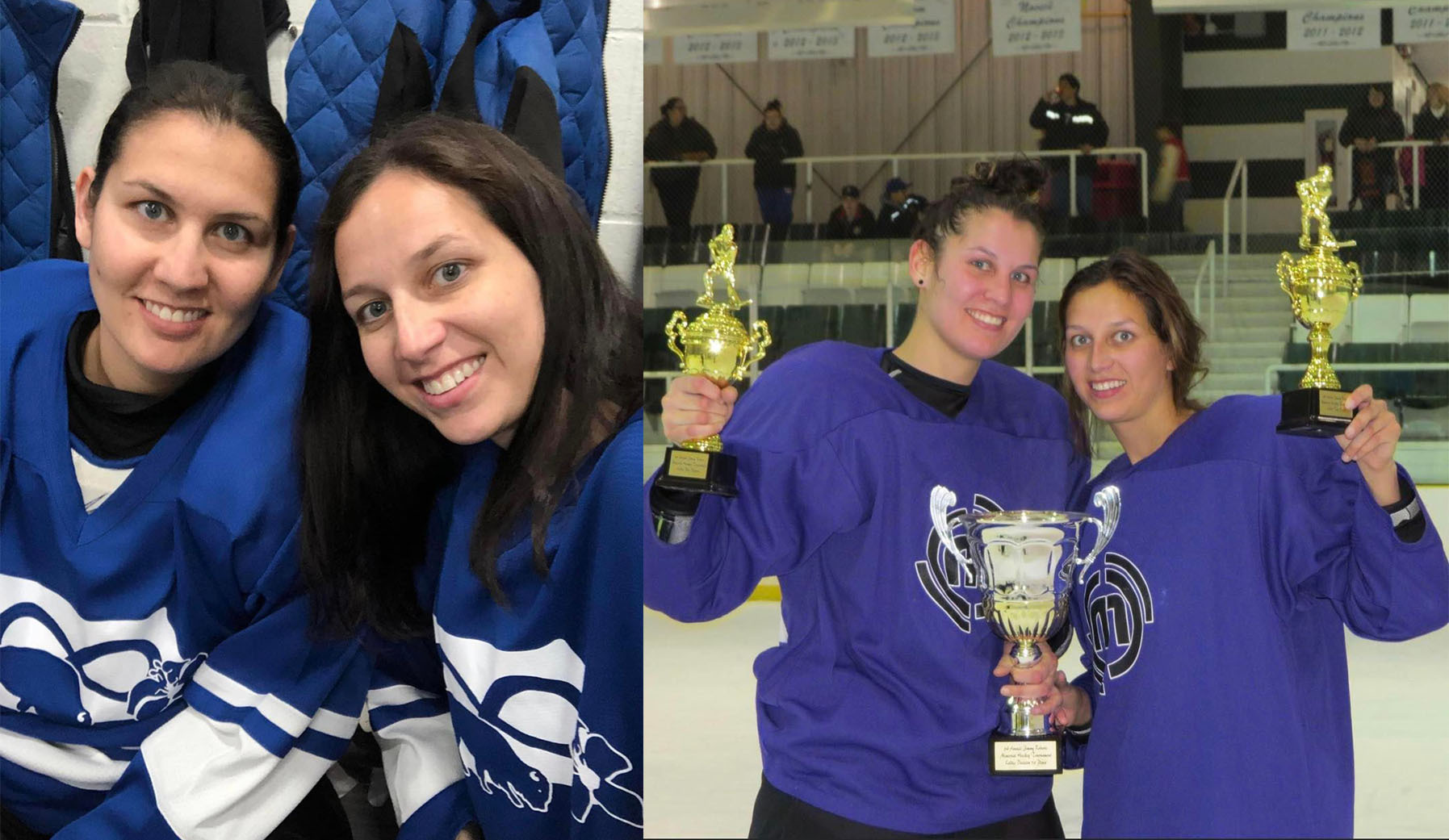 These days, Dwight mentors youth around Meadow Lake and shares this advice for up-and-coming Métis and Indigenous hockey players.
"The biggest thing is to stay focused on yourself and your goals. Everybody has a background. Everybody comes from their own heritage, their own place. That shouldn't affect or control what you want to do and what you commit to the sport," Dwight said.
"Put yourself first but know there's going to be adversity no matter where you're coming from. It's going to take a lot of time, a lot of commitment … but in the end, the reward's definitely worth it."
KING COACHES
For the 2021-22 season, Dwight joined forces with brother D.J. – who won the Memorial Cup with the 2003-04 Kelowna Rockets – behind the bench to coach both their sons' Under-7 (U7) team, which was named the Mooseheads.
"(I'm) using the knowledge that I've gained over the years. It's a little different. I'm only (coaching) U7, so there are not too specific skill sets you're developing … You teach them but you want to make sure they're having fun to enjoy the games, so they want to put in the time to get better," Dwight said.
"As long as you can get them in the door and enjoying it and having fun. I think it'll be up to the kid, eventually, if he wants to put in the extra work and he'll still have the love for the game, and to put that time and sacrifice in."
KING COUSINS
With her daughter Danaya also on the U7 team, Dayna said the Mooseheads were a family affair.
"Her uncles got to coach her this year, that was exciting. Actually, along with Dwight and D.J.'s boys playing, it was like a team of cousins … We got a big King family," Dayna said.
"This year, they had 11 players … four of them weren't related."
After the four siblings have come full circle with grassroots development, thanks in part to the family-run King's Hockey School, another generation of cousins starts out at the rink.
"They're all loving it. They are too young to really predict where it's going to go," Dayna said.
"But from what we see now. Especially Drew, he's played with Danaya, that's D.J.'s baby, and he's just – day and night – hockey … (Dwight's son George) is still at that developmental stage where he's really competitive and he's liking it. That will just flourish as he goes.
"(Danaya) got six goals her first game … it'll be neat to see what the future is."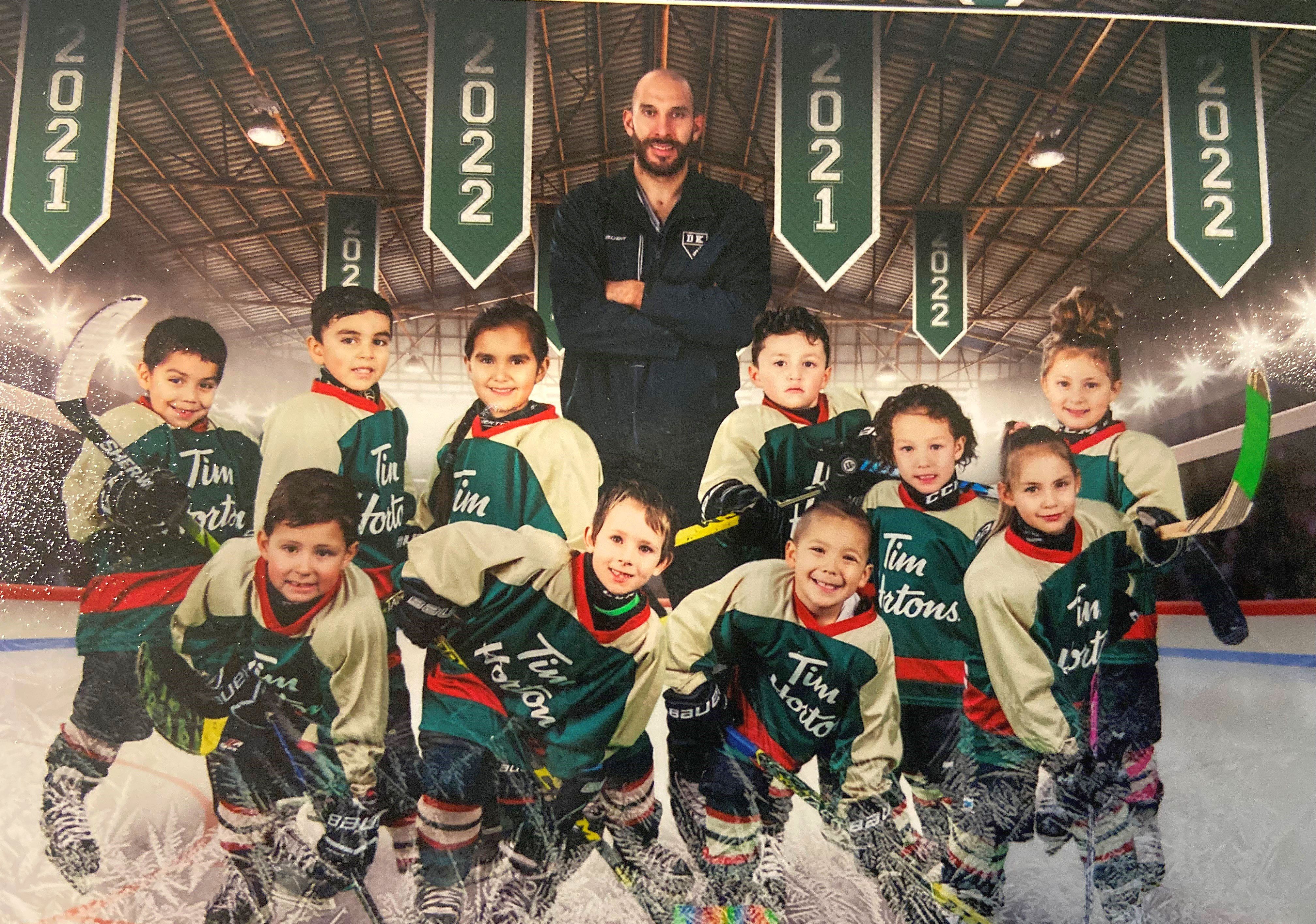 MÉTIS HERITAGE
With National Indigenous History Month underway and National Indigenous Peoples Day on June 21, the importance of heritage was highlighted by members of the King family.
"Where we grew up here (in Meadow Lake) is primarily First Nations … pretty predominantly Indigenous around here," Dwight said.
"Nice to recognize the past and where our people have come from and what our history is … Heritage and being proud of where you came so you know where you're going to go. Essentially, it's a big part of life.
"Community is just a big part of our heritage and family … My boy's fortunate enough they have a program now in school, that my sister actually teaches, which introduces the Michif language back to him."
Dayna said she felt truly honoured to help pilot the kindergarten Michif language program within the Northwest School Division this year.
"When I grew up going to school, I didn't feel proud … When you revitalize the language and the culture, you find out your sense of belonging and who you are. And when you know who you are, you are that much more successful," Dayna said.
"I gave (students) individual awards that were like the best spoon player … best jigger, best dancer, best singer, and the best storyteller. All connected to the Métis ways.
"I had Dwight's boy in there. He has come leaps and bounds. I gave him the animal caller award and I asked him if he wanted to share and he didn't hesitate. He just started doing his moose call in front of all the people."
For more stories made in celebration of National Indigenous History Month, please visit Hockey Canada online.
Back to all News