Hockey Saskatchewan Awards Highlight Exceptional Contributions to Minor Hockey During 2022-23 Season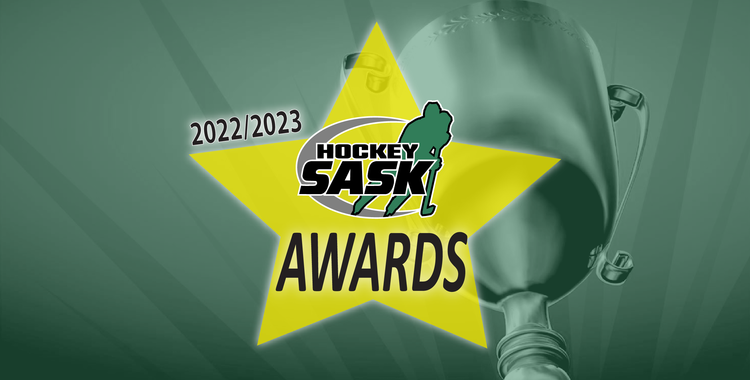 May
23
By Hockey Saskatchewan
REGINA, Sask. – Hockey Saskatchewan is thrilled to announce the winners of its highly anticipated annual Awards for outstanding individuals, following the conclusion of the 2022-23 season.
Each year, Hockey Saskatchewan recognizes outstanding volunteers from the North and South zones as well as a coach through a nomination process. For the first time, a Minor Hockey Association (MHA) of Distinction Award is also being bestowed upon a member association that stood out as a shining example on the minor hockey landscape.
Congratulations to Carey Allchurch, Alysha Hoffart, Monica Peterson, and Big River First Nation MHA for being the recipients of this season's Hockey Saskatchewan Awards. These awardees have demonstrated outstanding commitment and dedication to the sport, and their contributions have had a significant impact on their communities. Your unwavering support and tireless efforts help make hockey the thriving and vibrant sport that it is today.
Hockey Saskatchewan would also like to express its appreciation to all those nominated and who took the time to nominate these exemplary individuals. Without your tremendous dedication and support, hockey in the province would not be possible.
Once again, congratulations to all the award recipients, and thank you to everyone who supports and contributes to the success of hockey in the province. We look forward to another fantastic season and to recognizing the achievements of outstanding members in the years to come.
Shaping Character for Life… More Than a Game.
---
Volunteer of the Year - North
Carey Allchurch (Saskatoon, Sask.) was recognized by the local MHA as one of the most impressive team managers it has ever seen. She ensured the Female U13 Comet Eclipse had an amazing hockey season both on and off the ice. Allchurch's dedication to developing the girls' on-ice skills was evident through her booking of extra ice times, physical training sessions, and power skating sessions. Off-ice experiences were also a priority for Allchurch, who organized volunteer opportunities which included players and siblings raking leaves at a nursing home as well as writing Christmas cards for elderly residents. She also organized a float in the Santa Claus parade, where players handed out candy canes and pizza coupons to the crowd while wearing their Comets jerseys. Overall, Allchurch's selfless efforts went above and beyond the expectations of a team manager. She created unique opportunities for the players to be ambassadors for Comets hockey in the community and build strong team bonds. Allchurch's communication with parents and guardians was also exemplary, with prompt updates on changes to the schedule and polls for feedback and input.
---
Volunteer of the Year - South
Alysha Hoffart (Indian Head, Sask.) has been awarded the Southern Volunteer of the Year Award for her tireless efforts in developing female hockey and always having the players' best interests at heart. This season, she managed four hockey teams (U7, U7 female, U11, and U11 carded) as well as served on the Indian Head Minor Hockey Association (IHMHA) executive board. This dedicated volunteer could be found not only organizing events for her team at the local library but also organizing a community-wide snow shovelling initiative for all age groups. She helped host a U7 tournament as well as a U11 league playoff tournament. When the weather turned for the worst and roads shut down, she got back to the drawing board and reorganized the U11 league playoff tournament in no time. She brought focus on female hockey to the MHA and has helped develop an all-female U7 team, recruit a female coach, and organize a female day to celebrate girls in hockey. Hoffart's dedication is unmatched, managing the IHMHA Facebook page, capturing pictures of all teams, and putting together videos from events. Her efforts to encourage female participation in hockey have positively impacted the community.
---
Coach of the Year
Monica Peterson (Weyburn, Sask.) has a passion for hockey that's inspirational, and she works tirelessly to share that with her city and the surrounding area. Peterson has been the director of Weyburn MHA's U5, U7, and U9 divisions and stepped up to coach two teams (U7 and U9) when there weren't enough volunteers. Her elite hockey background combined with her comfort in teaching fundamental skills have been instrumental to many young players having a positive start in the sport. She shares drills and her coaching methodology with other volunteers and ensures that those within her divisions, all of which who are coaching alongside her, practice and enforce fair ice time. Peterson has also created a mini-league for children that did not make their division's carded teams to continue development on those designated weekends. She is not only a wonderful mentor for coaches and players but also for the young group of officials. Peterson values all members of the hockey community and understands the crucial role of developing officials and off-ice volunteers to support players and coaches. Despite a loss in the family this past year, she upheld her commitment to the Weyburn MHA and her dedication to hockey is an inspiration to all. Peterson is an exemplary candidate for this award which recognizes her resilience and love of the game that she shared with so many.
---
(NEW) MHA of Distinction Award
Big River First Nation (BRFN) has been recognized as the inaugural recipient of this new award for its outstanding contribution to the minor hockey landscape. The First Nation took an incredible step toward with the new Jim Neilson Sports Complex, which is named after the late Indigenous trailblazer and SHHOF inductee. With this new facility officially opening in September 2022, the First Nation is setting a new standard for the integration of sports and education, creating a place where children can not only learn new skills but also grow and thrive. Following two seasons impacted by the COVID pandemic, BRFN's recent registration numbers have not only recovered but increased 72.73% over the 2019-20 season. This award is also attributed to the First Nation's leadership, including BRFN CEO Derek Klein for his role in the rink's construction, and the hard work of dedicated volunteers. Team manager Amanda Morin was instrumental in initiating the first team from BRFN into the province's female U15 A league. Additionally, Morin went above and beyond her duties by organizing a team trip to the United States in partnership with the New York Rangers organization. Kristen Bear is also recognized for her leadership coaching the Female U11 Rangers, which has created a positive impact on the girls' physical, emotional, and mental health. Role models like these volunteers encourage and support young females to become the community's future leaders. The MHA of Distinction Award is a testament to the hard work and dedication of the BRFN and its volunteers. Their contribution to the community is a shining example of what can be achieved through teamwork and perseverance.
---
About HOCKEY SASKATCHEWAN
Hockey Saskatchewan was established in 1912 and is the governing body for organized hockey in the Province of Saskatchewan. With a mission to Lead, Develop and Promote Positive Hockey Experiences, Hockey Saskatchewan encourages competition at all levels – from recreational to high performance. Hockey Saskatchewan has grown through the years and is Saskatchewan's largest sports organization with over 43,000 members comprised of players, coaches, and officials. For more information, please visit www.hockeysask.ca or follow us on Facebook, Twitter, and Instagram.
Back to all News