20 Officials Selected to Train Alongside Sask First Male U18 Players at April Tournament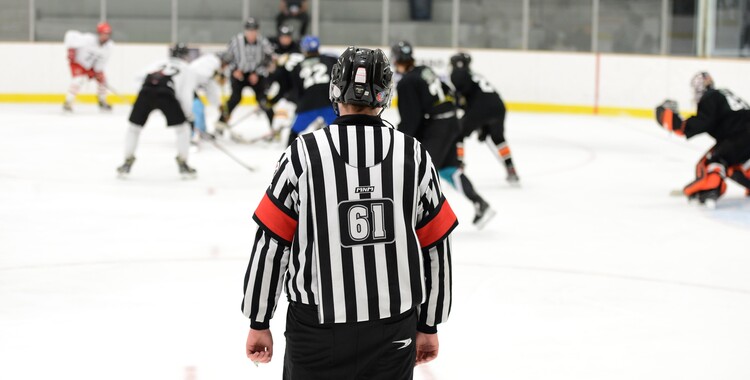 Apr
12
By Hockey Saskatchewan
REGINA, Sask. – Twenty Officials have been selected by Hockey Saskatchewan for the Sask First Male Under-18 Tournament. The event will take place in Regina, Sask., from April 15-17, 2022, at the Co-operators Centre.
"This program has proven to be a feeder system for our Saskatchewan Officiating Development Leagues and is a great opportunity to help the Officials with their development and see how they match up with their peers," says Trent Cey, Manager of Officiating Development with Hockey Saskatchewan.
OFFICIALS SELECTED FOR THE TOURNAMENT
Sask First Male U18 Tournament (Regina)

Name  

Hometown

Aidan Slusar

Regina

Austin Normand

Saskatoon

Ayden Cummins

Saskatoon

Ben Schuetz

Swift Current/Regina

Brock Appleyard

Regina

Connor Dueck

Prince Albert

Emmanuel Grimm

Hodgeville/Caronport

Felix Ewen-Temoshawsky

Gull Lake

Gabe Beaulieu

Clavet

Jeiden Painter

Prince Albert

Jordan Frey

Saskatoon

Kaleb Mercer

Moose Jaw

Keenan Aarrestad

Springside/Regina

Max Kazuska

Saskatoon

Mitchell Muller

Shellbrook

Nate Singular

Grenfell/Regina

Nik Hrapchak

Warman

Nolan Nagel

Emerald Park

Percy McDonald

Warman

Rylan Sissons

Tisdale
Official Coaches

Name

Hometown

Lyle Wilhelm

Moose Jaw

Brad Howard

Regina

Clint Joyes

Saskatoon

 Dallas Davison

Regina

 Trevor Norum

Tisdale

Sean Dufour

Balgonie

Mike Guitard

Prince Albert

Bob Millette

Regina

Ken Gaudet

Regina

James Mays

Candle Lake

Cam Kuffner

Regina
The chosen Officials' schedule includes information and classroom sessions, a State the Referee's Decision practice exam, video review, an on-ice power skating and testing, off-ice fitness testing and four to five games. They will be officiating games and be supervised and evaluated with the aid of SODM Official Coaches and experienced Officials.
"This tournament is a great way to gauge the Officials' progress from the Sask First Male U15 Regional Camps that were held back in December and help to push them and provide opportunities at the next levels," says Cey.
For more information on the Hockey Saskatchewan Officiating Program, visit https://hockeysask.ca/officials/resources.
---
ABOUT SASK FIRST:
The Sask First Program was introduced by Hockey Saskatchewan in 1988 and since that time the program has brought great pride and accomplishment within our province. The Sask First Program was designed to provide a better understanding of the game as well as to promote the development of quality players, coaches, trainers, and officials. The participants are enriched as individuals and can achieve self-satisfaction and enjoyment as part of the hockey community.
---
For more information on Hockey Saskatchewan and the Sask First program, please visit www.hockeysask.ca, or follow through social media on Facebook, Twitter, and Instagram.
Back to all News