OFFICIATING U-7 CROSS-ICE HOCKEY
This is a valuable opportunity for newer officials to put on their uniform and get on the ice in live action.
This system will help them learn some basic aspects of being an official in a less formal and positive atmosphere.
Basic skills include: dropping pucks, skating skills, foundational positioning, spatial awareness, establishing good sightlines, making decisions such as goals and minor infractions.
This format also provides an excellent opportunity for senior officials to mentor newcomers by shadowing them on the ice or evaluating them from the stands. The ability to mentor officials at ice level in this structure provides instantaneous feedback and assists in preparing these officials for half ice and full ice games in a two (2) or three (3) official system in their future.
It also gives the players and those at the rink that this is a 'real game' and that planning, and professionalism has gone into the experience for the players.
Procedures
Face-offs: There will be one face-off location. Face-offs will occur at the start of each period and possibly each shift, there will be no need for face-offs after the puck is covered by the goalie or a goal is scored, the puck can be released to the corner and the game can continue.
Goals: When the puck is scored, the official can signal the puck went in the net and assist in tossing the puck out and continuing play.
Frozen Pucks & Game Flow: When play is stopped because the acting goalie covered the puck the official can blow their whistle and have the puck tossed to the corner to continue plan. This can be the same procedure for pucks leaving the playing surface, or a player falling on the puck.
Penalties: There will very seldom be penalties called at the initiation level. Often, it will be a coaching opportunity for the coaches on the ice to communicate with the player instead of sending someone off the ice.
Positioning: Foundational positioning principles will be used. The concept of the "cone" should be reserved for when full ice play begins. Under the cross-ice structure, approximate "home base, half piston and at the net" positions should be used to get official comfortable with their proximity to the goal. Officials should follow the play approximately 10-15 feet behind the puck carrier. They should remain about 5-10 feet from the boards or playing area perimeters. The examples on the diagram below show guidelines for establishing recommended end-zone positions around the nets.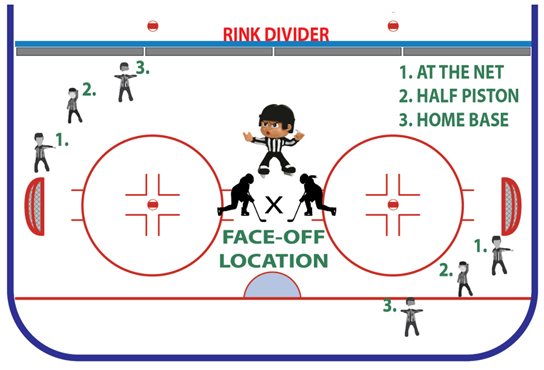 FOR QUESTIONS, PLEASE CONTACT: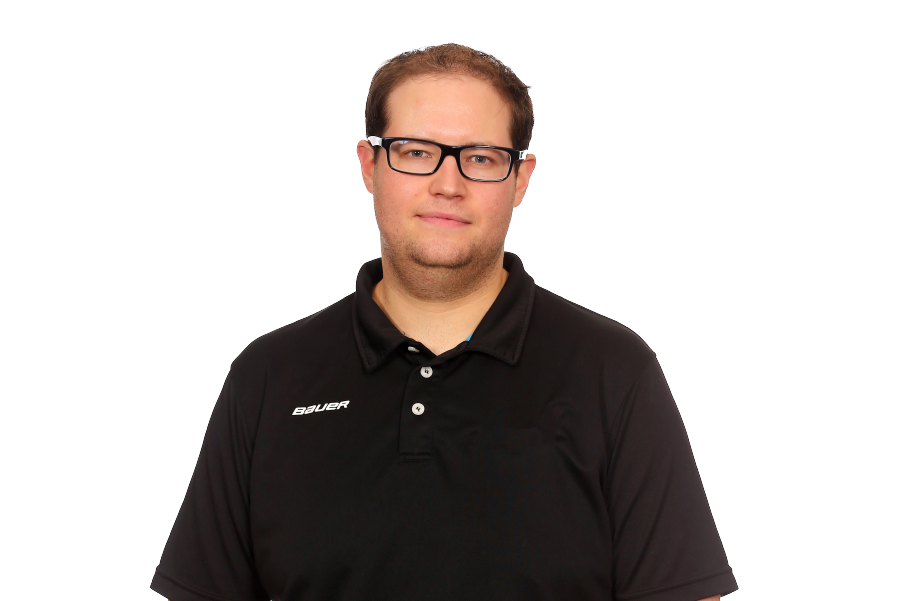 Trent Cey
Manager, Officiatings Development
---
Austin Penner
Coordinator, Officiating Development
---